DC Power Link, Omni-Directional Input and Outputs, 50Amp Power Connector
Design Registered & Innovated by KT Cable Accessories, the New Innovative DC Power Link is the modern alternative 4 Way Power Source for 50Amp Applications. Designed to take camping, install in the rear of a 4WD, Mount to a wall in the control panel of your boat, install in a caravan or motorhome, or for simple use outdoors around your home.
The DC Power Link features 4 x Input/Outputs which can be used as either. Simply connect a Power Source (example; 12V or 24V Battery) to the chosen Input, and use remaining free Outputs to connect 12V or 24V devices.
The DC Power Link can be thought of as your new 50Amp Power Board with extra features to support USB device charging & powering (USB Inputs rated to 2.1Amp and 1Amp (3.1Amp total) at any one-time).
The unit is rated to handle up to 50Amps total, and when using all 4 circuits, (with a single power input) each output is rated to 25Amps Maximum. For more information on how the DC Power Link can be used, read further down to the Configurations section of this page.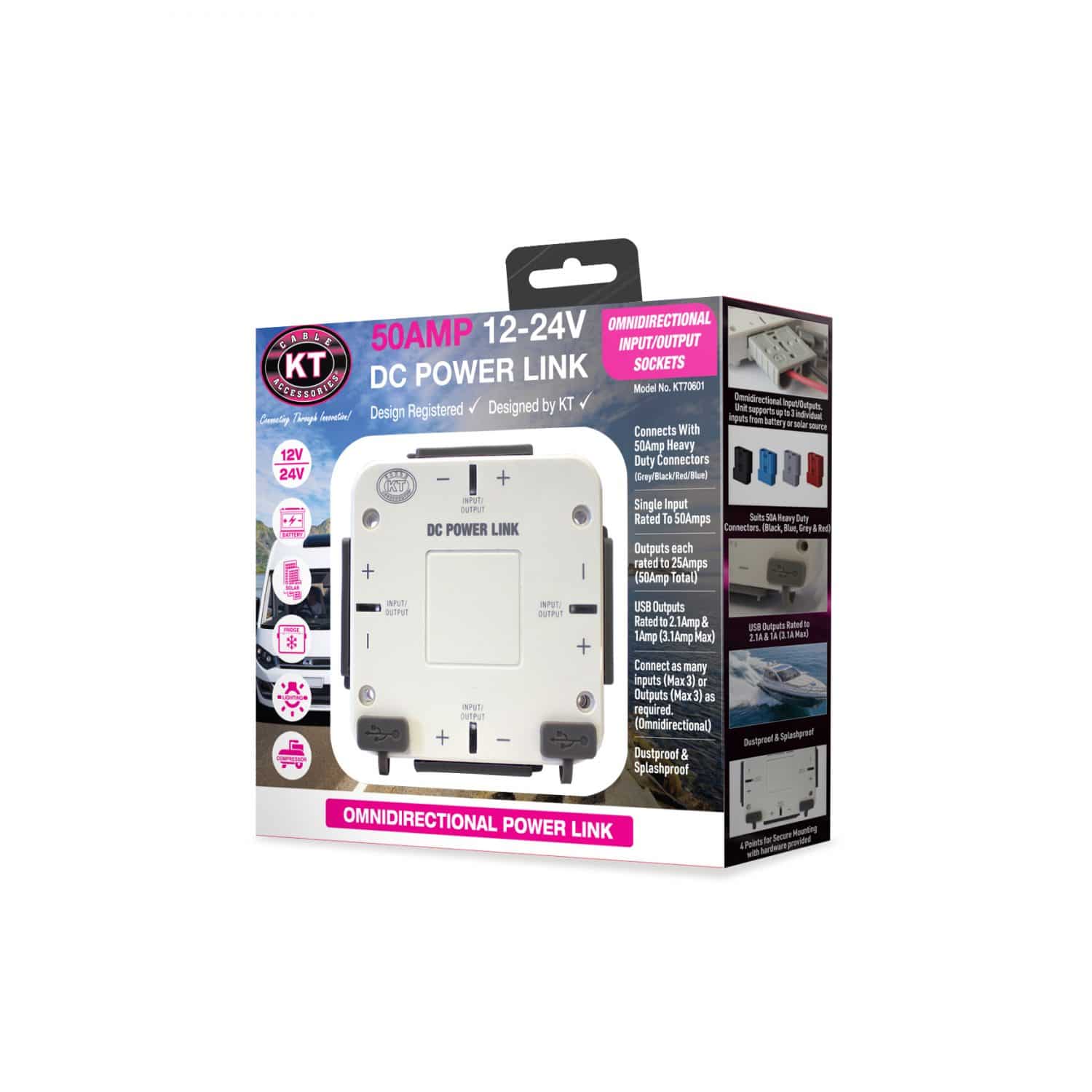 Features:
LED Indicator to show live circuit once input has been connected
4 Mounting Points allow easy and secure mounting
Stainless steel hardware included
Connects with 50Amp heavy duty connectors (grey, black, red, blue)
Warning (Not suitable for mounting in vehicle engine bays)
The DC Power Link can be used with Grey, Black, Red and Blue 50Amp Heavy Duty Connectors through inputs/outputs.
Components of the DC Power Link:
1. Dustproof Covers
2. 50Amp Heavy Duty Connector Inputs/Outputs
3. Mounting Points for securing to surface
4. USB Inputs
---
Specifications:
Suitable for 12-24V Operations
Single input rated to 50Amp draw
Each Output rated to 25Amps (50Amp total) at any one-time
2.1Amp and 1Amp USB Outputs (3.1Amp total) at any one-time
Dimensions: 86mm (L) x 86mm (W) x 22mm (H)
Housing manufactured from durable UV stabilised polycarbonate/ABS
Dustproof and Splashproof
Size & Dimensions of the KT DC Power Link:

---
Configurations in which the DC Power Link can be used:
The device can be used in a variety of configurations. Below we show six possible options.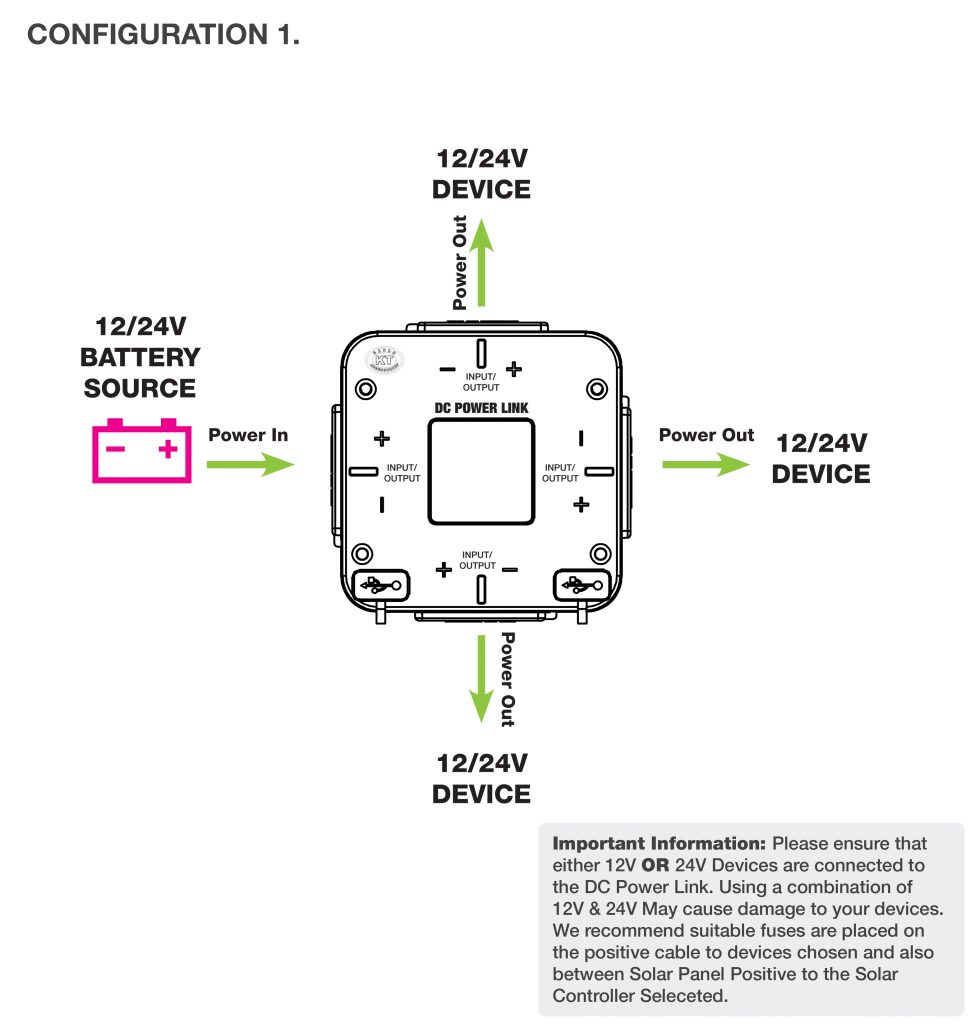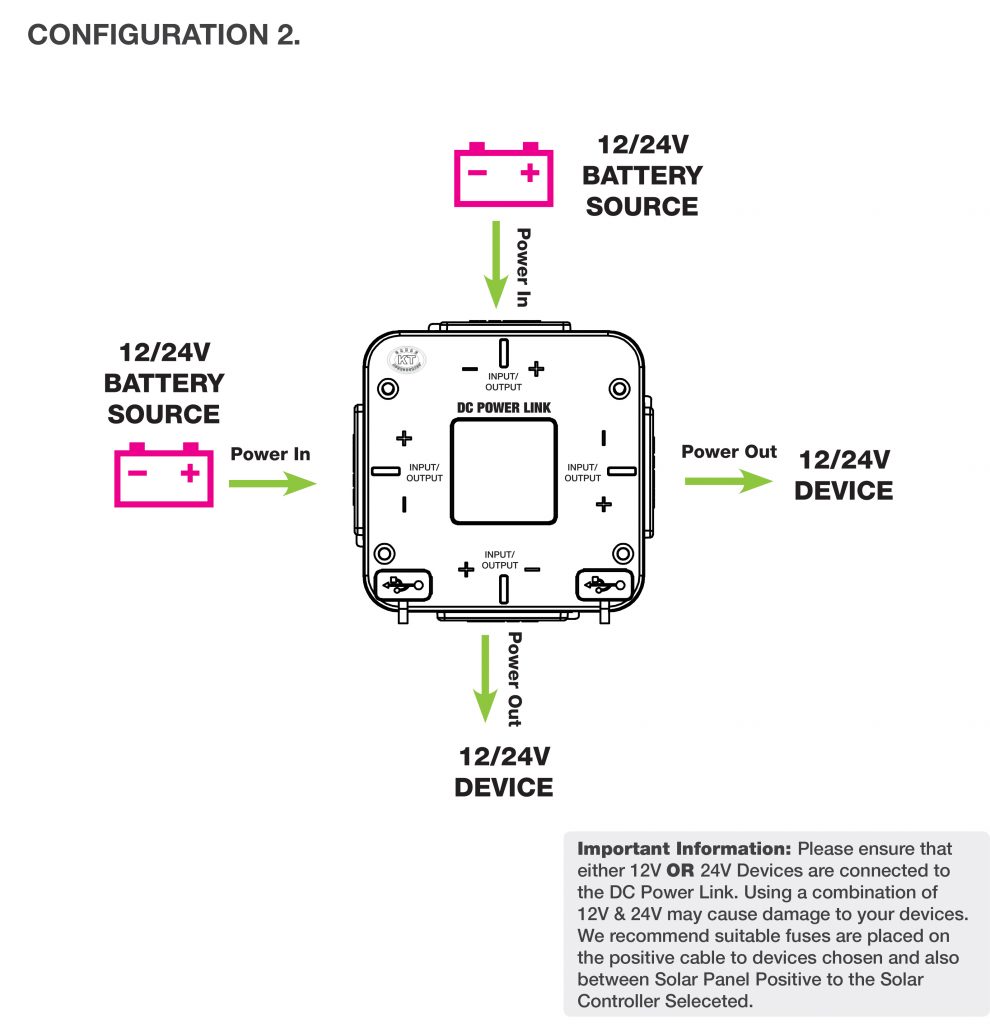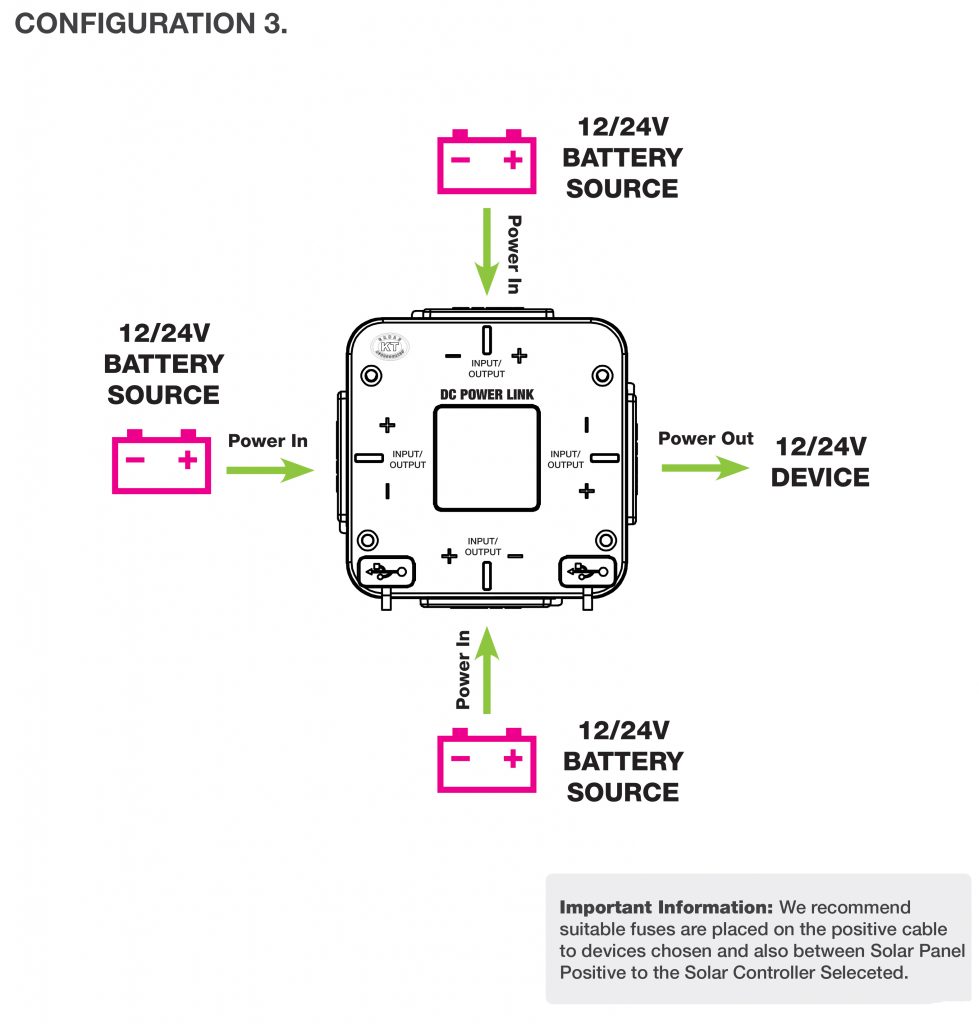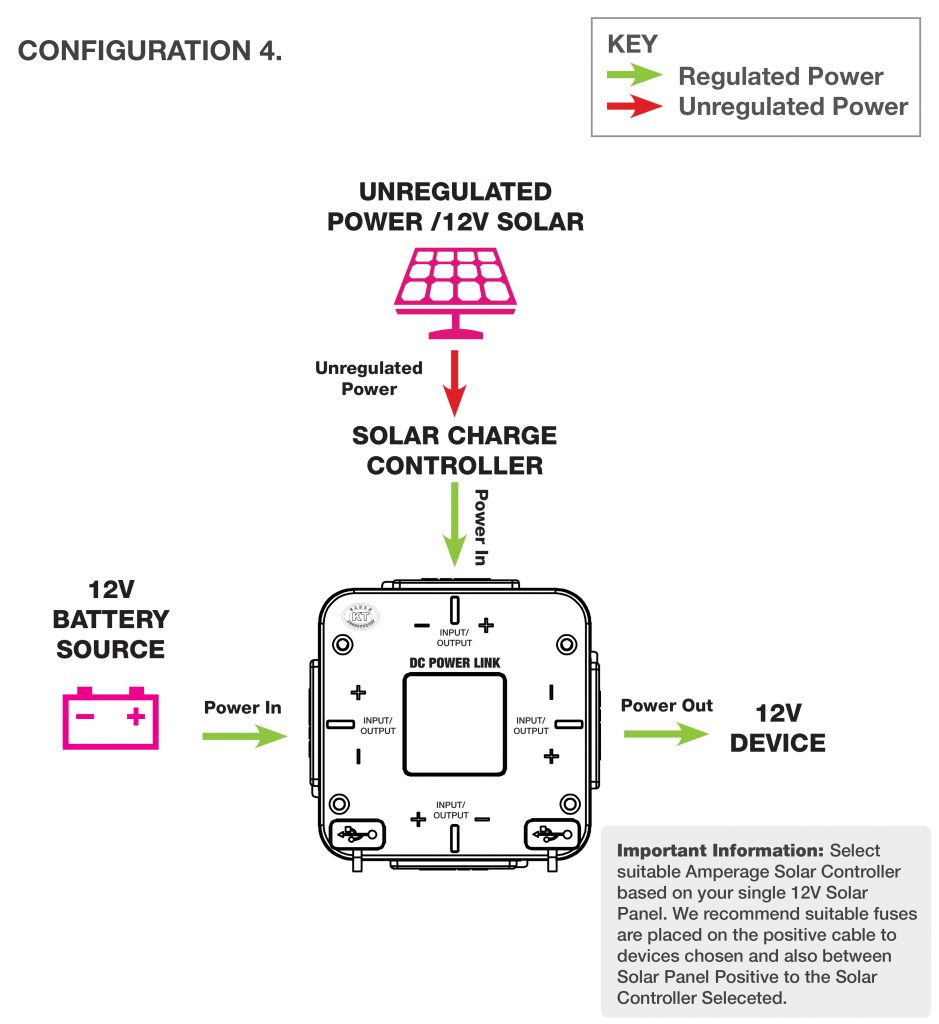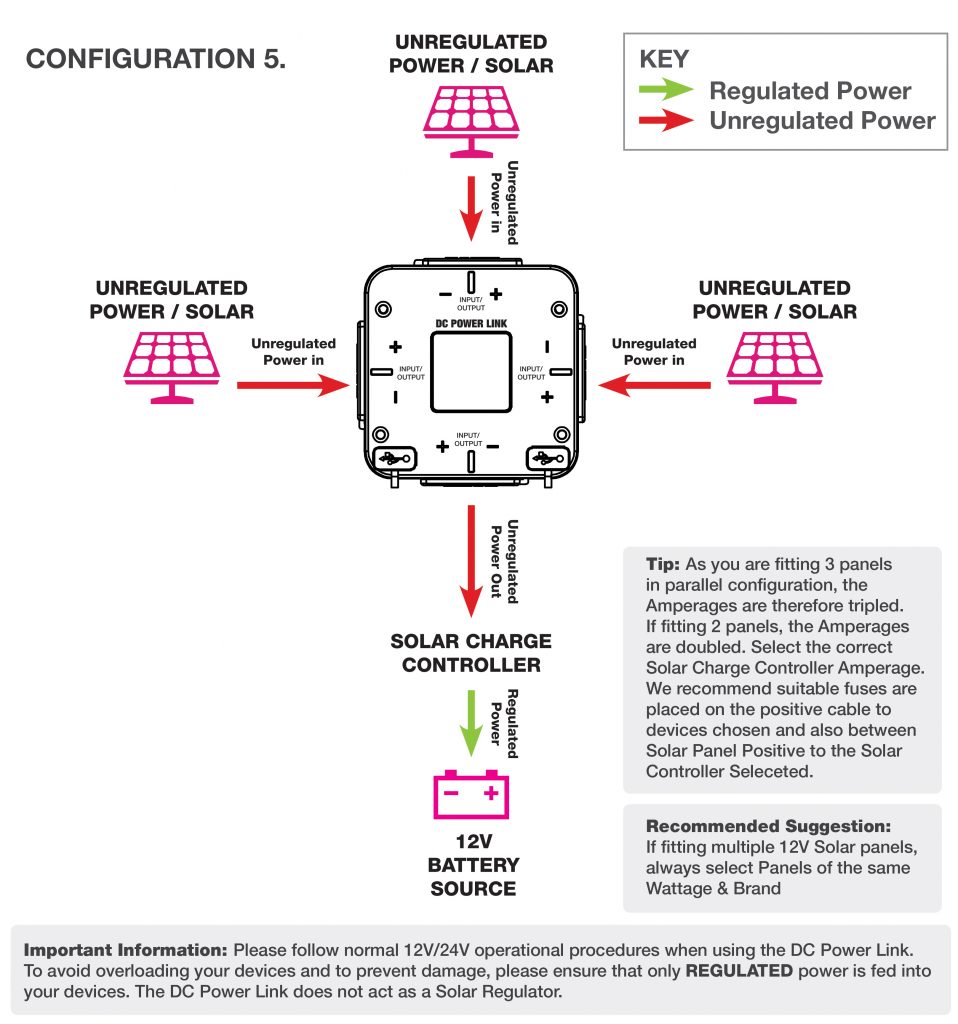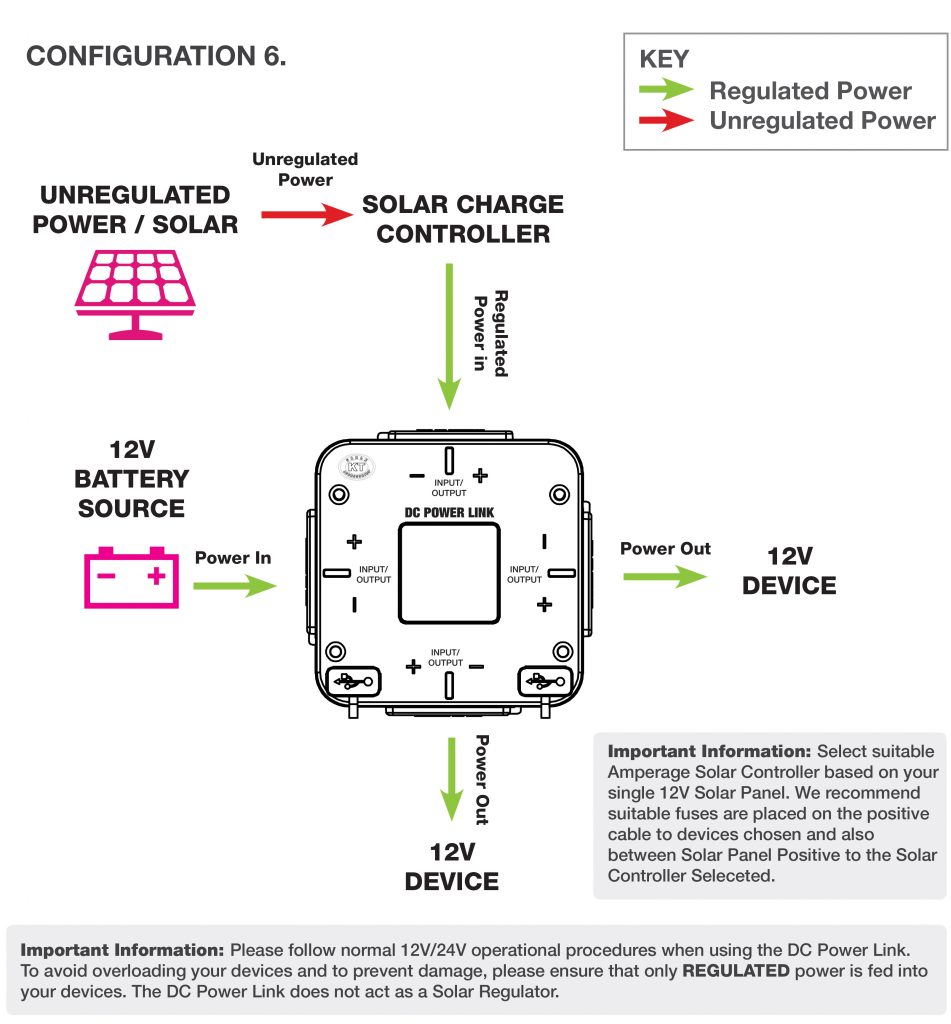 ---
No video for this product.
No documents for this product.