Solar Charge Regulator PWM, 8Amp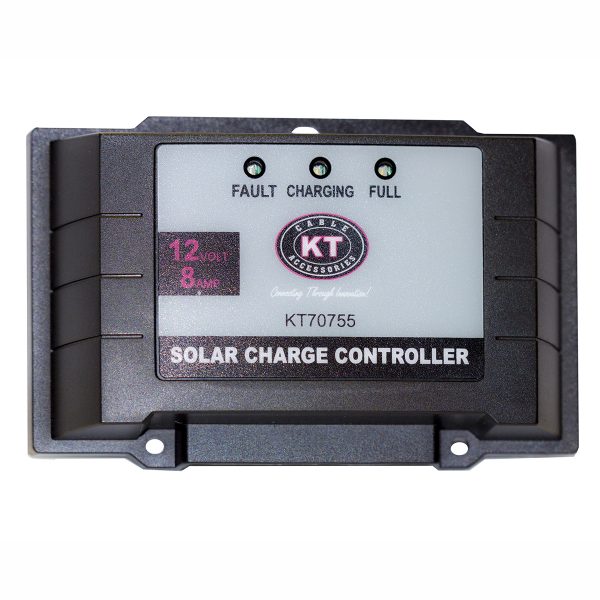 The KT 8 Amp Solar Charge Regulator is designed to regulate the amount of charge coming from the panel that flows into the deep cycle battery in order to avoid batteries being overcharged. The regulator can also provide a direct connection to appliances, while continuing to recharge the battery; i.e. you can run appliances directly from it, bypassing the battery bank; however the batteries will continue to be charged.
KT's range of solar regulators are PWM (Pulse Width Modulation) which are the most commonly used as they do not use moving parts like an MPPT controller, making them suitable for use on panels that are constantly being transported or moved eg; on the roof of a caravan, fitted to the back of a transportable, folding solar panel etc. PWM solar chargers use technology similar to other modern high quality battery chargers. When a battery voltage reaches the regulation set-point, the PWM algorithm slowly reduces the charging current to avoid heating and gassing of the battery, yet the charging continues to return the maximum amount of energy to the battery in the shortest time. The result is a higher charging efficiency, rapid recharging, and a healthy battery at full capacity.
Dimensions:
Dimensions (Height): 60mm
Dimensions (Width): 105mm
Dimensions (Depth): 35mm
Features:
Suitable for solar panels up to 135 watts
Advanced pulse width modulation technology (PWM)
Adjustable dip switch for pre-setting your battery type
Suits AGM-GEL-WET-CALCIUM batteries
Indicating LED's denote charging full and/or fault
100% no condensation – potted
Warranty & Guarantees:
12 Month Warranty on Manufacture & Build
Specifications:
IP65 Rated (dustproof & splashproof)
No video for this product.
No documents for this product.