Cable Ties, Coloured, 350 Pack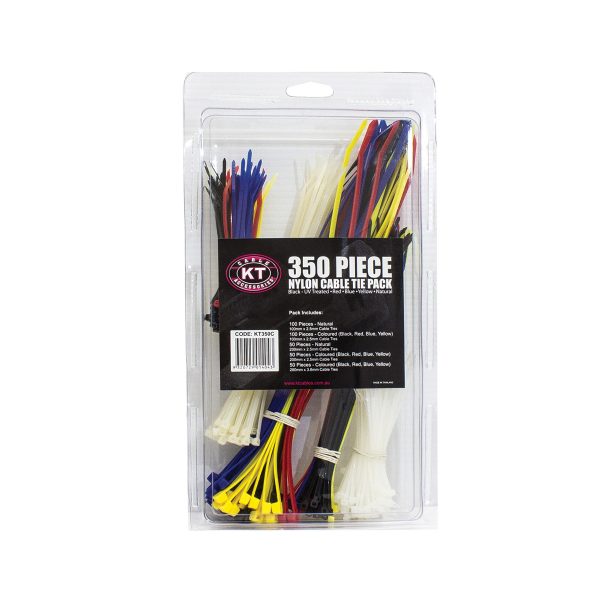 KT provides Australia's largest range of Cable Ties. KT's Coloured Cable Ties come in a wide range of colours and sizes and are suitable for endless applications, some of which include easy identification, denoting the inspection status of leads, security ties with differing levels of security and use with power cables which are generally tied with a red tie & data with black. Coloured Cable Ties may also be used in non-electrical applications including packaging, organisation & more!
KT Black Nylon Cable Ties use UL approved nylon and are UV treated and weather resistant with a temperature rating of -40°C to +85°C. Approved to the requirements of MILITARY 3367 – 1978 and UL underwriters Laboratories E156597. All black cable ties supplied by KT are UL approved nylon 6/6 with a flammability rating of UL94V-2. KT cable ties are both long lasting and durable with a standing reputation of quality within the industry.
Colour:

Black (UV Treated), Red, Blue, Yellow & Natural
Specifications:

Flame Retardant

Heat Resistant
Pack Quantity:

350
Pack Contains:

100 x Natural – 100mm x 2.5mm

100 x Coloured (Black, Red, Blue, Yellow) – 100mm x 2.5mm

50 x Natural – 200mm x 2.5mm Cable Ties

50 x Coloured (Black, Red, Blue, Yellow) – 200mm x 2.5mm Cable Ties

50 x Coloured (Black, Red, Blue, Yellow) – 280mm x 3.8mm Cable Ties
Notes:

For long-term outdoor applications, we recommend using any of our Black Nylon Cable Tie range which are all UV Treated, Weather Resistant, Flame-Retardant and Heat-Resistant.
No video for this product.
No documents for this product.