200 Watt, 12V Single Cell Mono-crystalline Solar Panel
200W 12V solar panel is built predominantly for permanent installations on the roofs of 4WD, vans, caravans, campers, motorhomes, RV's, commercial service vehicles, large boats & yachts, powering 12V sealed lead-acid batteries that power devices such as 12V fridges, air-compressors, lighting and other 12V devices.
This solar panel is also ideal for home & rural applications including 12V home surveillance systems, irrigation systems, electric fences, electric gates & off-grid shed power.
Requires regulations from solar charge controller.
Suited to KT Solar Controller Model No. KT70757 – 20 Amp PWM Solar Charge Controller.
Features 900mm PV cables terminated to male & female TUV certified solar connectors.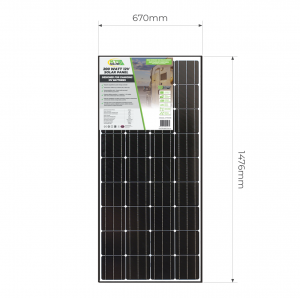 Dimensions & Weight:
Dimensions (Height): 1476mm
Dimensions (Length): 670mm
Dimensions (Depth): 40mm
Panel Weight: 11.50Kg
Features:
Ideal for installation on 4WD's, caravans, campers, motorhomes, commercial vehicles, boats & yachts
Ideal for home and rural applications including off-grid shed power
Requires regulation by solar charge controller
Direct connection to batteries with 900mm PV cables with positive (+) and negative (-) TUV certified connectors
Warranty & Guarantees:
10 Year Warranty on Manufacture & Build
25 Year Efficiency Guarantee
National Warranty Programme
Specifications:
| | |
| --- | --- |
| Power Tolerance | +3% |
| Maximum Power (Pmax) | 200Wp |
| Maximum Power Voltage (Vmp) | 19.6V |
| Maximum Power Current (Imp) | 10.20A |
| Rated Voltage | 12V |
| Open Circuit Voltage (Voc) | 23.2V |
| Short Circuit Current (Isc) | 11.27A |
| Operating Temperature | -40°C to +85°C |
| Product Application | Class A |
| Max System Voltage | 1000V DC |
No video for this product.
No documents for this product.