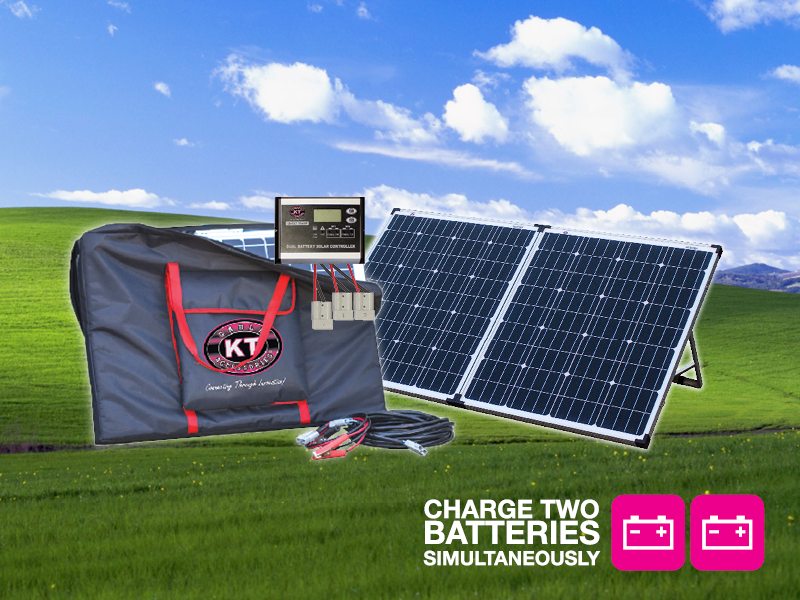 KT have designed the PREMIER of folding solar kits with unique, innovative features, setting it aside from the industry standard. 
Designed for those who have a passion for camping, caravanning, off-road adventures, boating, or simply after a reliable & portable solar solution to charge 12V batteries. The KT PREMIER 160 Watt, 12 Volt Dual Charging Solar Folding Kit (Model No. KT70711) is close to a square footprint in size and 2kg lighter than traditional solar kits. With it's dual charging capability, you now have the option of charging a single 12V battery or two batteries at once.  Choose from 6 battery types. Having this selection ensures the correct charge to your battery, with no fear over overcharging and ensuring your batteries life span whilst in desolate environments.
In consideration of the applications, conditions and environments that this kit may endure in it's lifetime, we recognize that durability and performance is critical. With this in mind, this kit is designed with a very strong, sturdy leg frame using aluminium extrusion and stainless steel components. Complete with a 3 year warranty on manufacture and build, a 25 year efficiency guarantee and bar coded for warranty registration recording, this panel is bound to out-perform other industry panels of the same wattage.
KT PREMIER 160 W, 12V Dual Charging Solar Folding Kit
Features:
Total weight of 12.76 Kgs – 2Kg Lighter than other 160 Watt Folding Solar Kits
Close to a square footprint in size
Ability to charge 2 x 12V batteries simultaneously
Kit can be regulated or unregulated for battery charge
Solar Controller connection features a L.E.D 50 Amp heavy duty connector to indicate when panels are "live"
10M Accessory Lead with 50Amp Heavy Duty Connector with In-built Voltmeter
500mm Accessory Lead with Positive / Negative Battery Clamps
500mm Accessory Lead with 8mm Ring Terminals
Innovative design, sturdy support frame with cross bars.
Controller is mounted to the panel leg supports, reducing de-rating
Protective abs corners, with 2 spare corner protectors included
2 x Heavy duty swivel carry handles on adjacent sides
 Heavy duty carry & storage bag with accessory storage compartments
 
 
 2 x 80W Mono-Crystalline, 12V Solar Panels in parallel 36 Cells per panel with a total of 72 Cells. An industry first, close to a square footprint.
The 30Amp, 12V dual battery solar charge controller. Ideal for charging 2 x 12V batteries at one time. Controller regulates solar power from the panel to the battery. 2 x 50Amp Heavy Duty Connectors connect with solar controller & 1 x 50Amp LED Heavy Duty Connector which indicates when panels are "live"
 
 
The ultimate space-saving solar solution
Folded: 787mm ( W) x 688mm (H) x 68mm (D)
Single Panel: 770mm ( W) x 670mm (H) x 30mm (D)
Unfolded: 1360mm ( W) x 787mm (H) x 33mm (D)
This kit is 12.76Kg in weight, 2Kg lighter than
traditional 160W folding solar kits

Features an aluminium panel to mount solar controller to the sturdy leg frame with cross bars and rubber boots. All hinges are made from quality stainless steel for added durability. Features stainless steel clips and screws

 
 
 Easily lift and transport your kit using the heavy duty carry handles which are mounted on 2 adjacent sides.
Design Registered 500mm length 4mm2 twin core cable with 1 x 50 Amp Heavy Duty Connector to a pair of positive & negative battery clamps.
 
 
 10M length cable with one 50 Amp Heavy Duty LCD connector with an in-built voltmeter (4mm2 cable). Reduces voltage drop.
 Store and protect your solar folding kit in the heavy duty carry bag provided. Features pockets for storage of leads & accessories.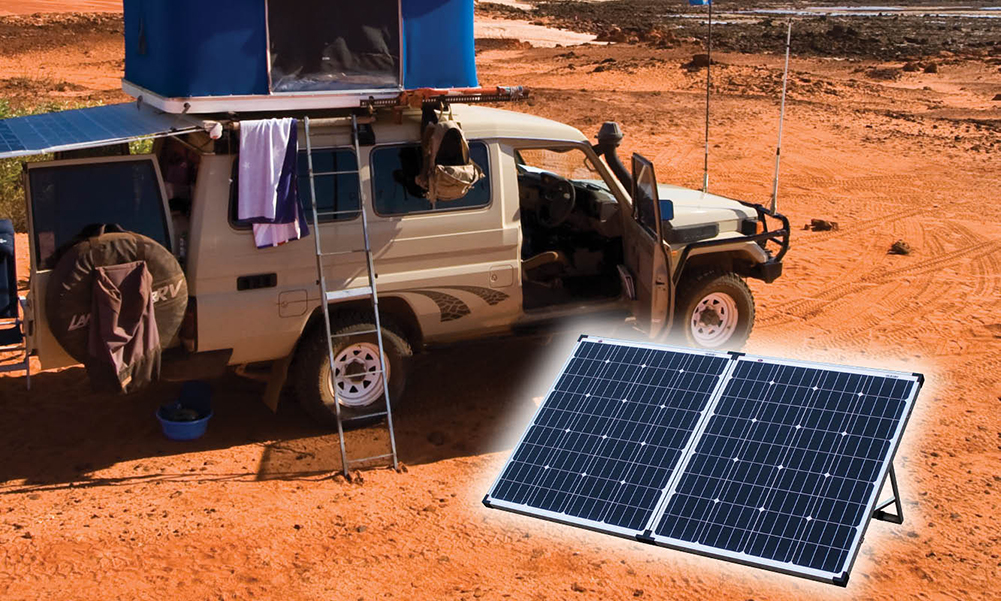 Specifications
| | |
| --- | --- |
| Max Power (Pmax) | 160W |
| Power Tolerance  | +3% |
| Max Power Voltage (Vmp) | 18.4 Volt |
| Max Power Current (Imp) | 8.70A |
| Open Circuit Voltage (Voc) | 22.6 Volts |
| Short Circuit Current | 9.16A |
| Operating Temperature  | -40~+85°C |
| Product Class  | Class A |
| Max System Voltage  | 1000V |
| Product Weight | 12.76kg |
---
Are you a business inquiring to purchase bulk, or stock this product? Contact us using the below contact form.