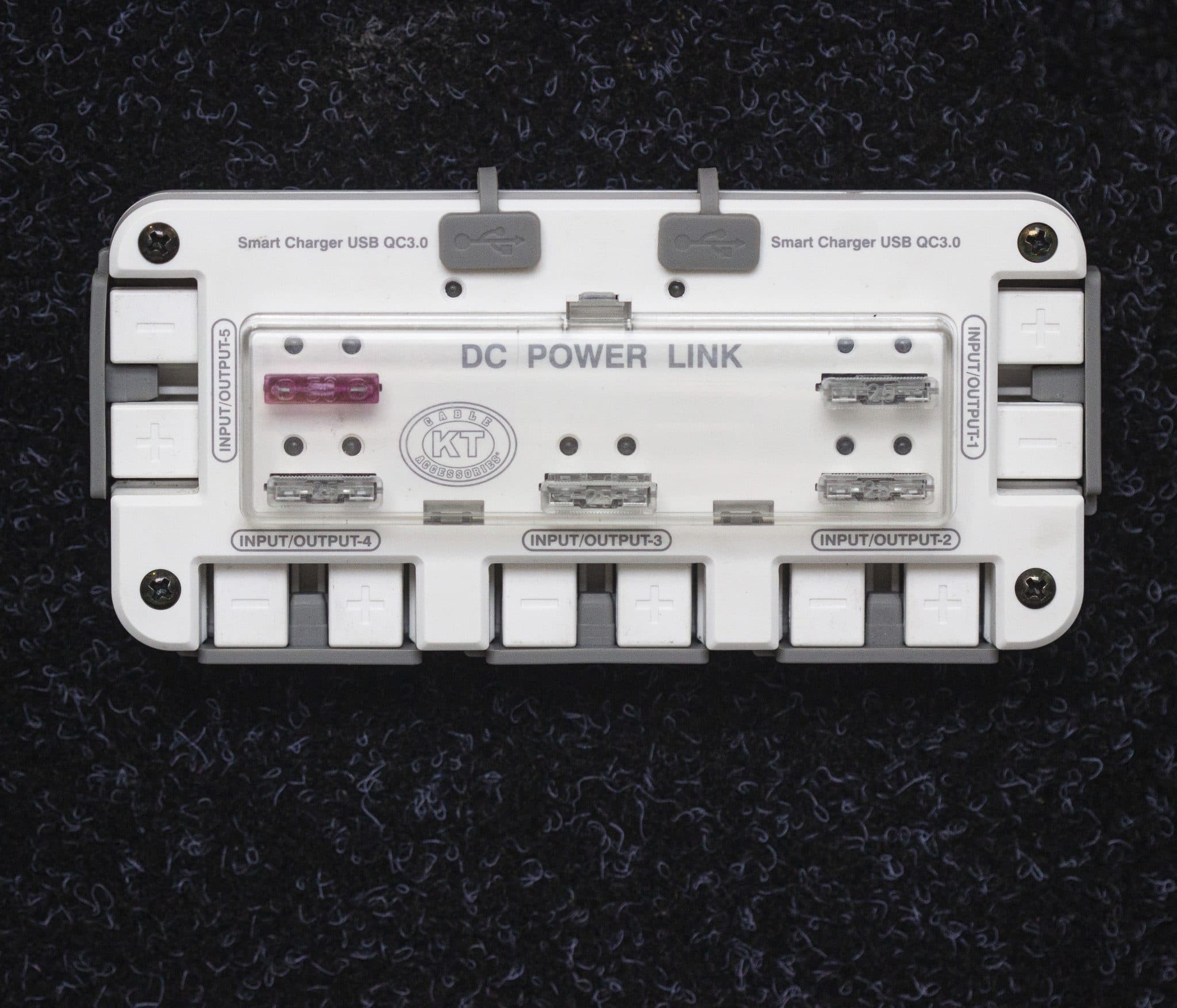 The New & Innovative KT 5 Way DC Power Link
KT70602
The All New & Innovative KT 5 Way DC Power Link is the latest addition to the KT Solar & Power Accessories range, designed to simplify 12V – 24V connections.
The compact unit is 143mm (L) x 77.2mm (H) x 32mm (D) in size and can be mounted to surfaces via the 4 secure mounting points, with screws provided.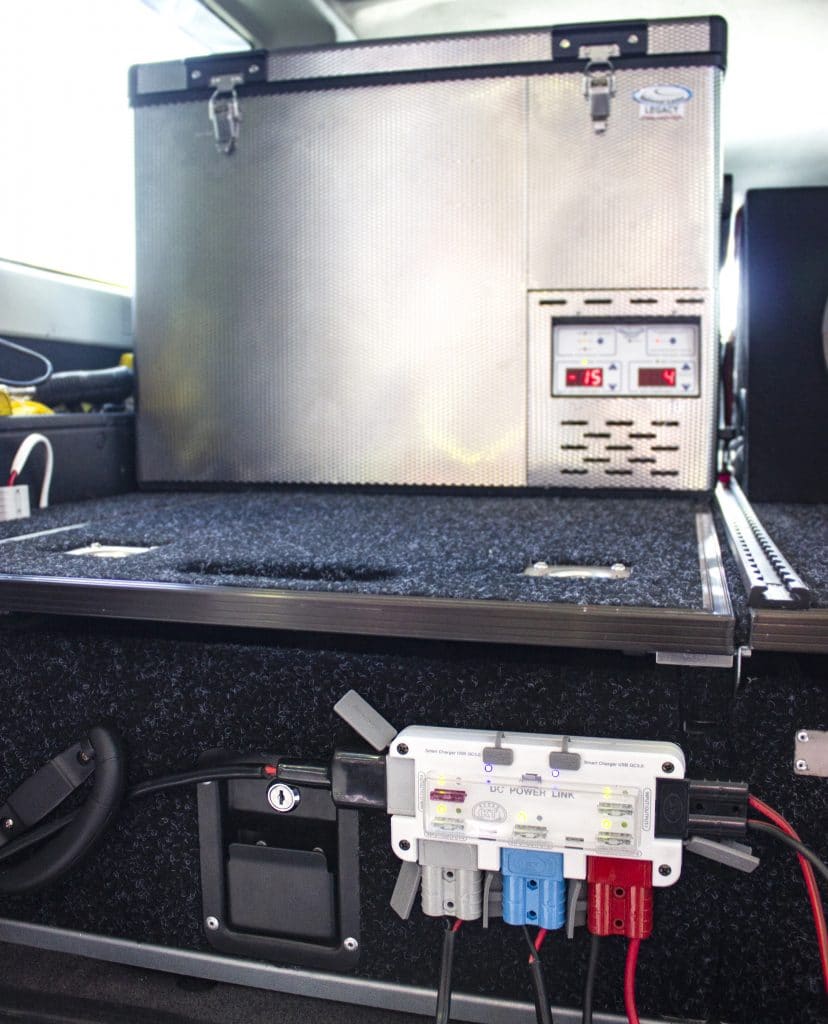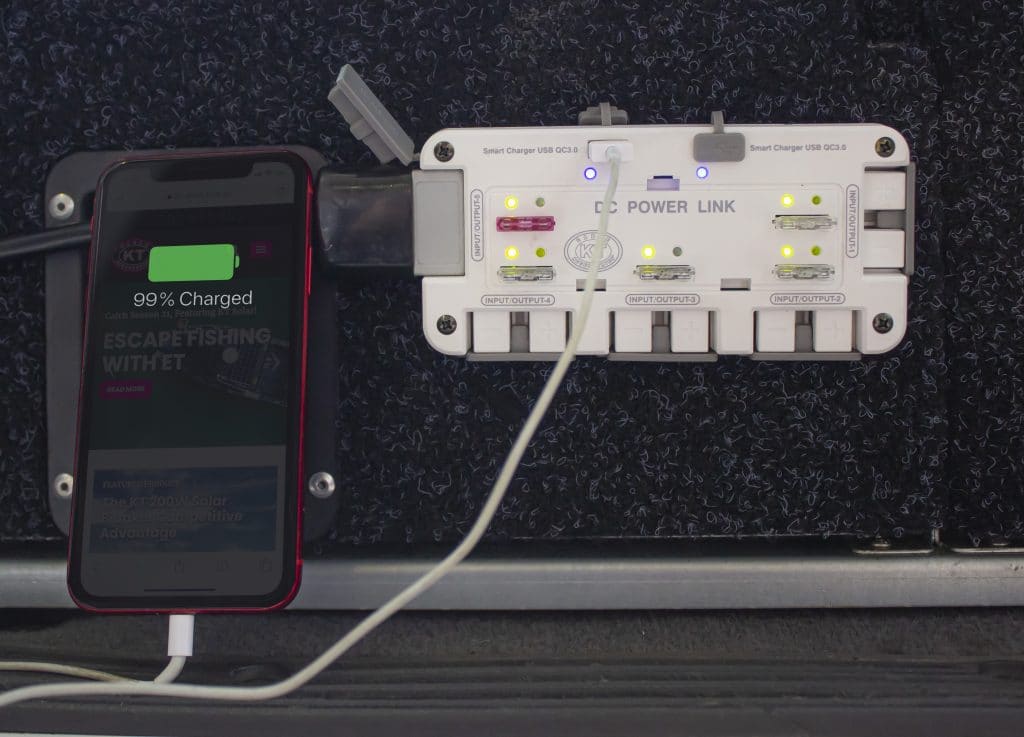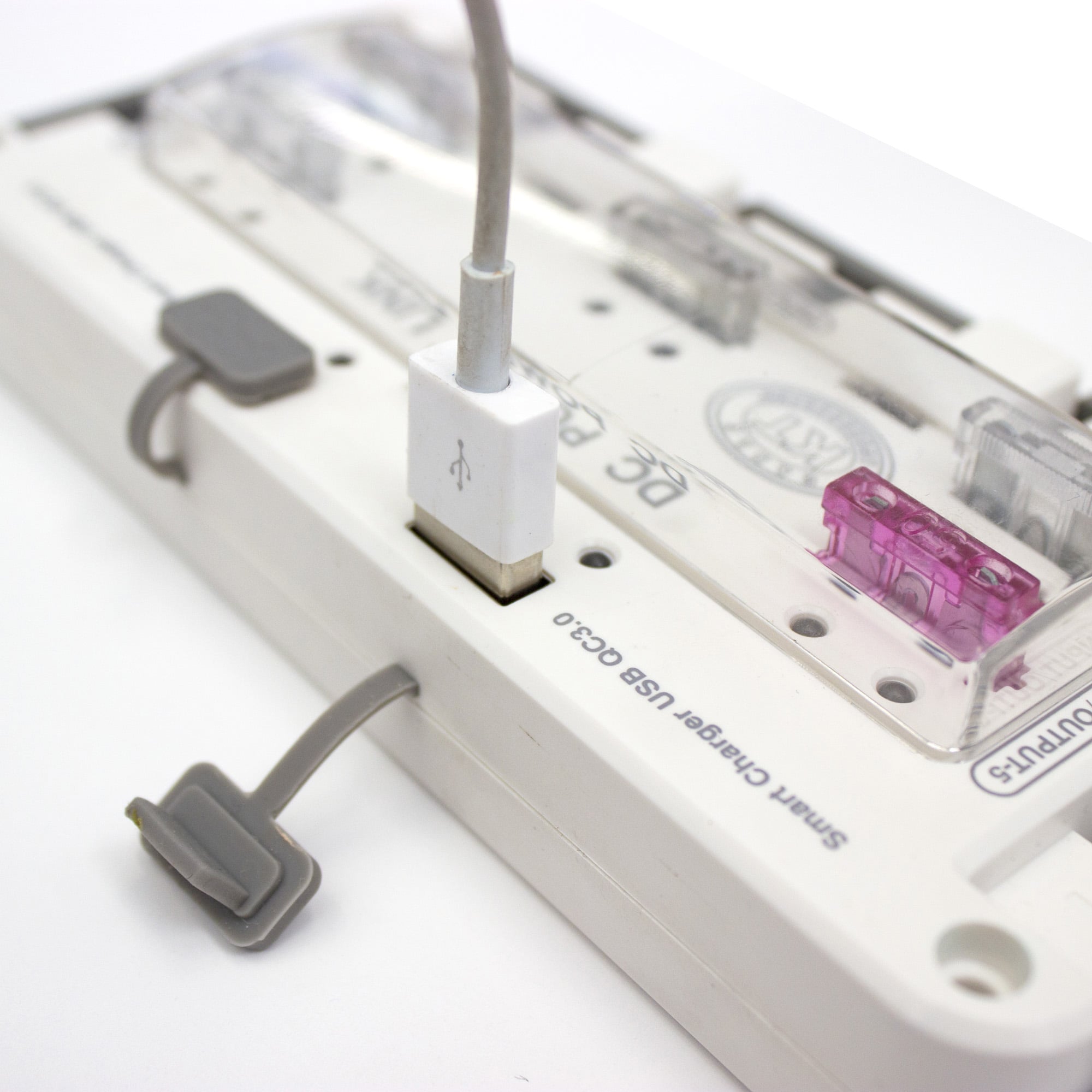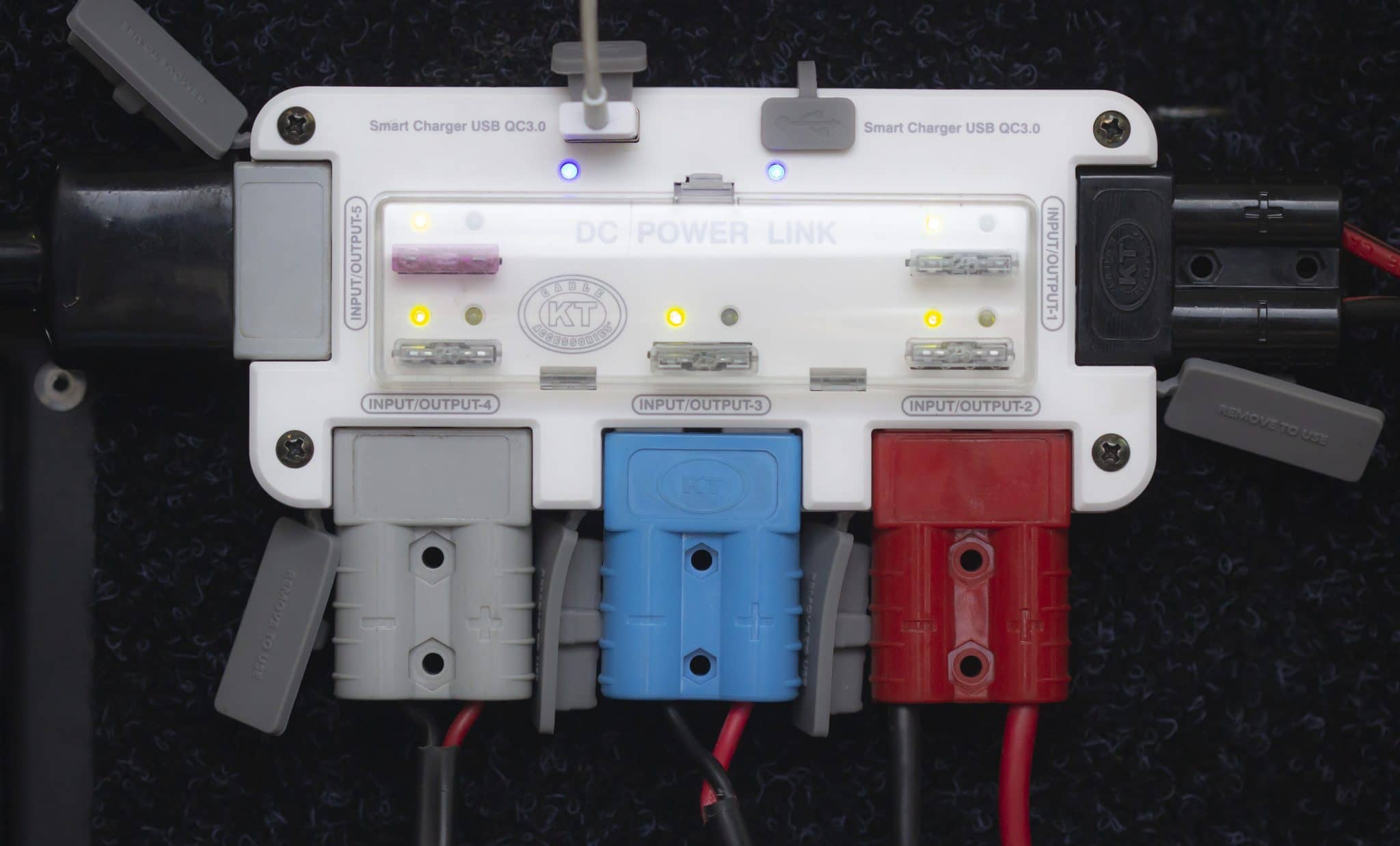 ABOUT THE KT 5 WAY DC POWER LINK
The unit has 50A Input / Output options, Dual 5V USB Inputs, and can support a multitude of power sources and loads. Ideal for, Solar ( 12V – 24V ), Camping & Marine Applications, 4×4, Caravan Applications & More!
This unit is suitable for use with any 12V or 24V applications and ideal for use with Solar, 12V or 24V Deep Cycle Batteries, Lighting, Camping Fridges, Air Compressors, and a variety of other camping, marine, 4WD, and caravanning 12V or 24V applications.
The Dual Smart-Charging USB Inputs allow efficient charging of Smart-phones, Tablets, Laptops and other USB devices. This unit features 5 Fused circuits, with green LED indicators which illuminate to display when a fuse has blown. Fuses can be removed easily via fuse-pulling tools. Fuses are protected by a polycarbonate cover, to protect from dust & water. This unit is manufactured using UV Stabilised polycarbonate, making it suitable for all indoor and outdoor applications.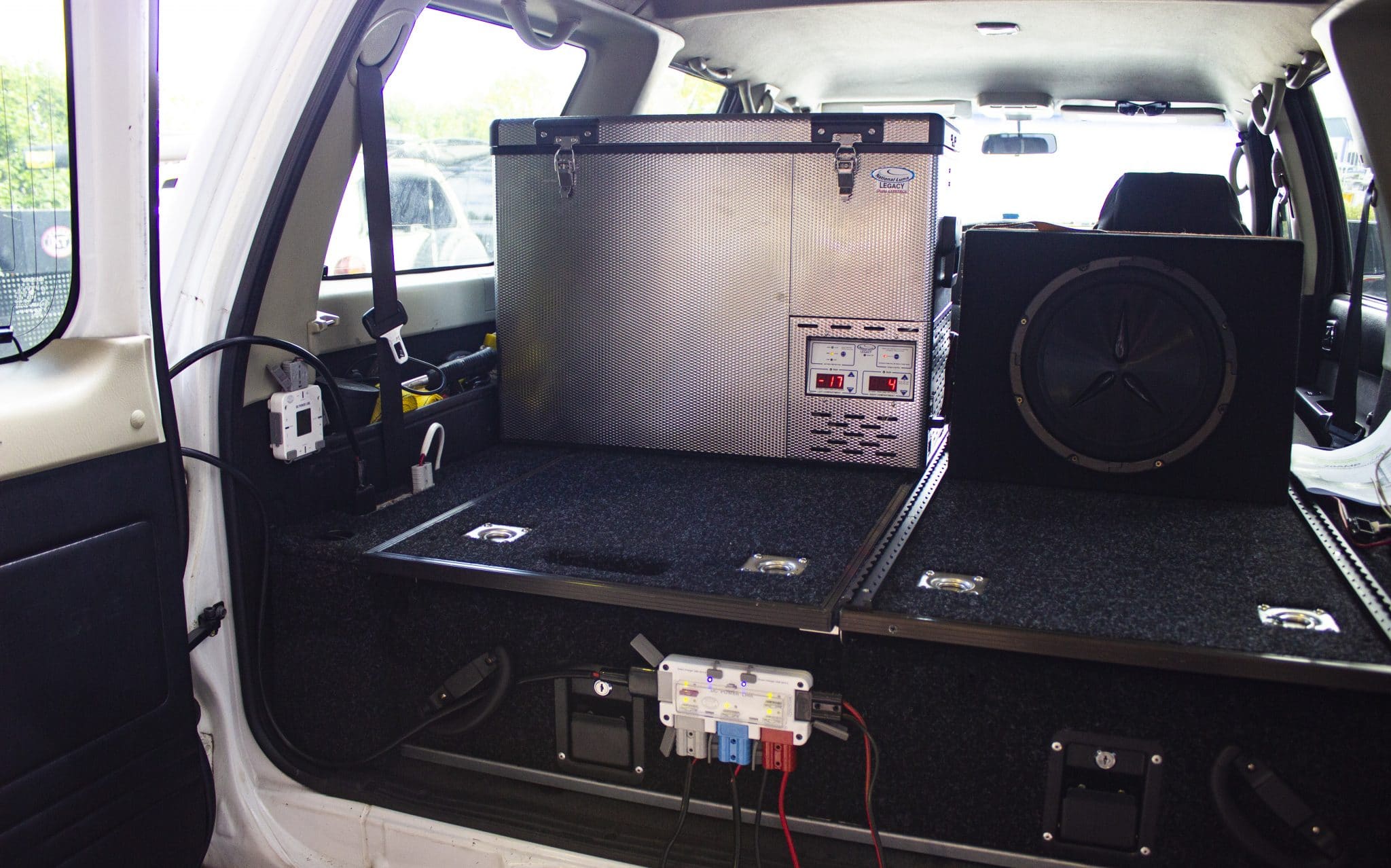 Power up to 6 Devices Max at Once (With 1 to 3 x 50A Power Inputs)
5 x 50A 12V – 24V Inputs / Outputs suited to 50A heavy duty connectors
2 x 5V USB connections
Suitable for a Wide Range Of Applications
Suitable for use with 12V – 24V applications including Batteries, Solar, Camping Fridges, Lighting & Air-Compressors & ideal for 4WD, Camping, Caravans, RV's, Motor-homes & boats.
LED Indicator Lights
Yellow LED Indicator Lights to denote 'live circuit'. For USB Circuits, Blue LED Indicator Lights denote active circuit. Red LED Lights for 50A Circuits denote blown / or removed fuse.
Dual QC3.0 USB Smart Charge Outlets (5V each)
for efficient charging & powering USB Devices.
4 Corner Points for Secure Mounting
Includes Mounting Hardware.
Each Circuit is Fuse Protected
Kit includes 3 x 50A Blade Fuses & 4 x 25A Blade Fuses. This is not indicative of appliances that use smaller fuses. Always select the correct fuse as per manufacturer specifications.
Easy Clip On / Off Polycarbonate Cover
Suitable for Use with 12V & 24V Devices
Ideal for use with 12V Lead Acid Batteries, Solar Panels, Camping Fridges, Lighting, Air Compressors & other 12V or 24V Camping / Outdoor applications.
Moulded to Connect with 50A Connectors
Designed to connect with Grey, Blue, Red & Black 50A Heavy Duty Connectors.
Durable for a wide-range of outdoor, 4WD Applications
Dustproof, Splashproof with Rubber Protective Boots to protect connections when not in use.  Body is made from UV Resistant Polycarbonate.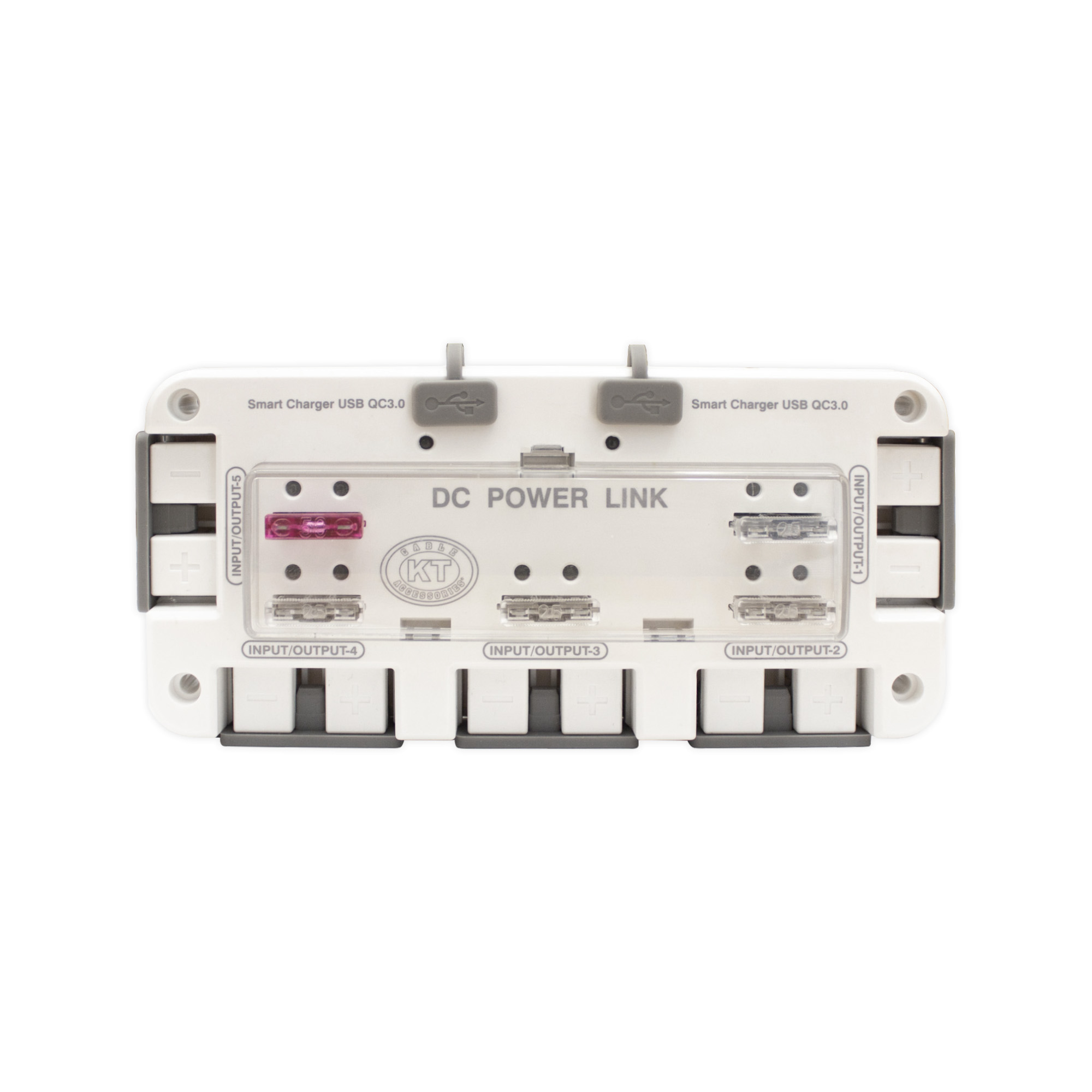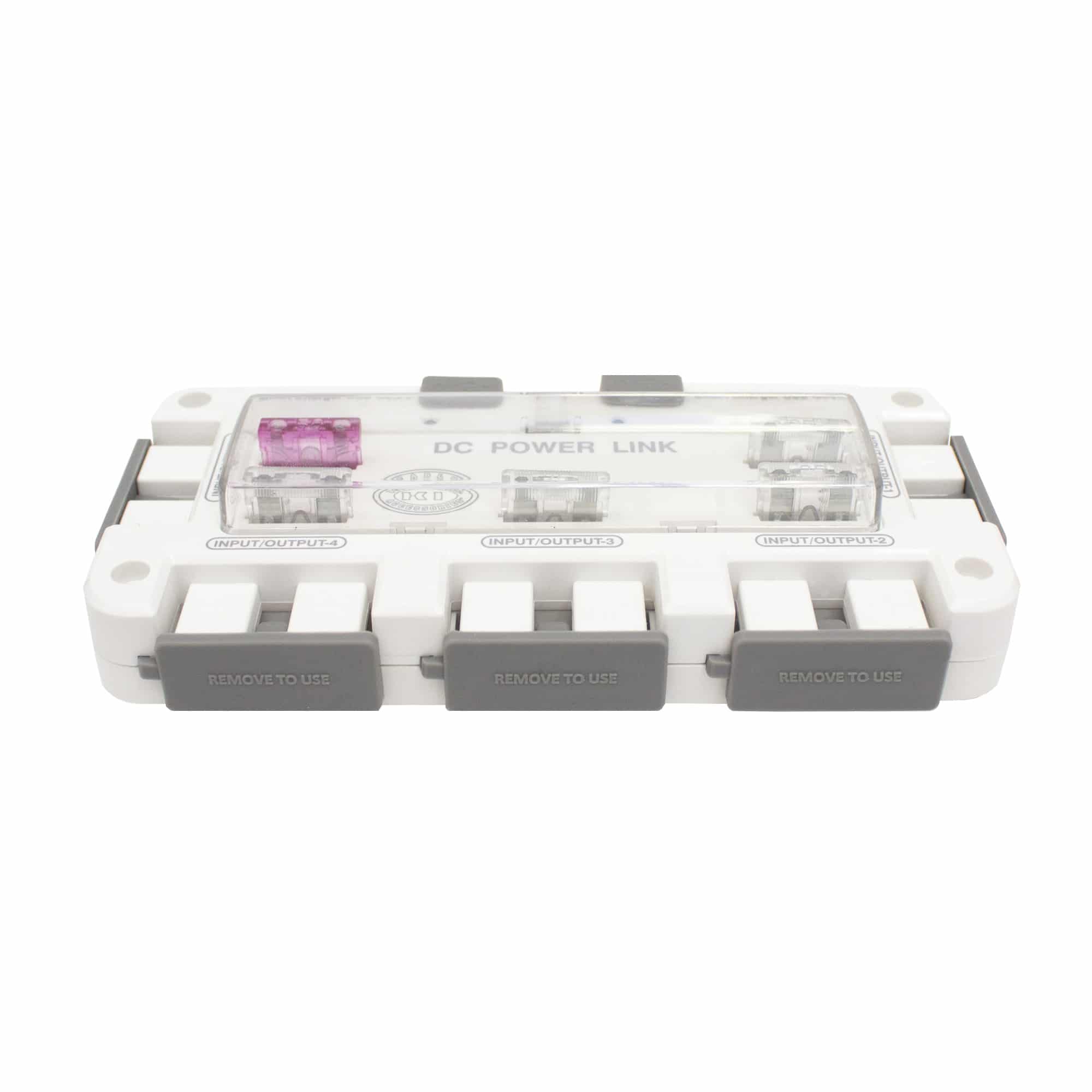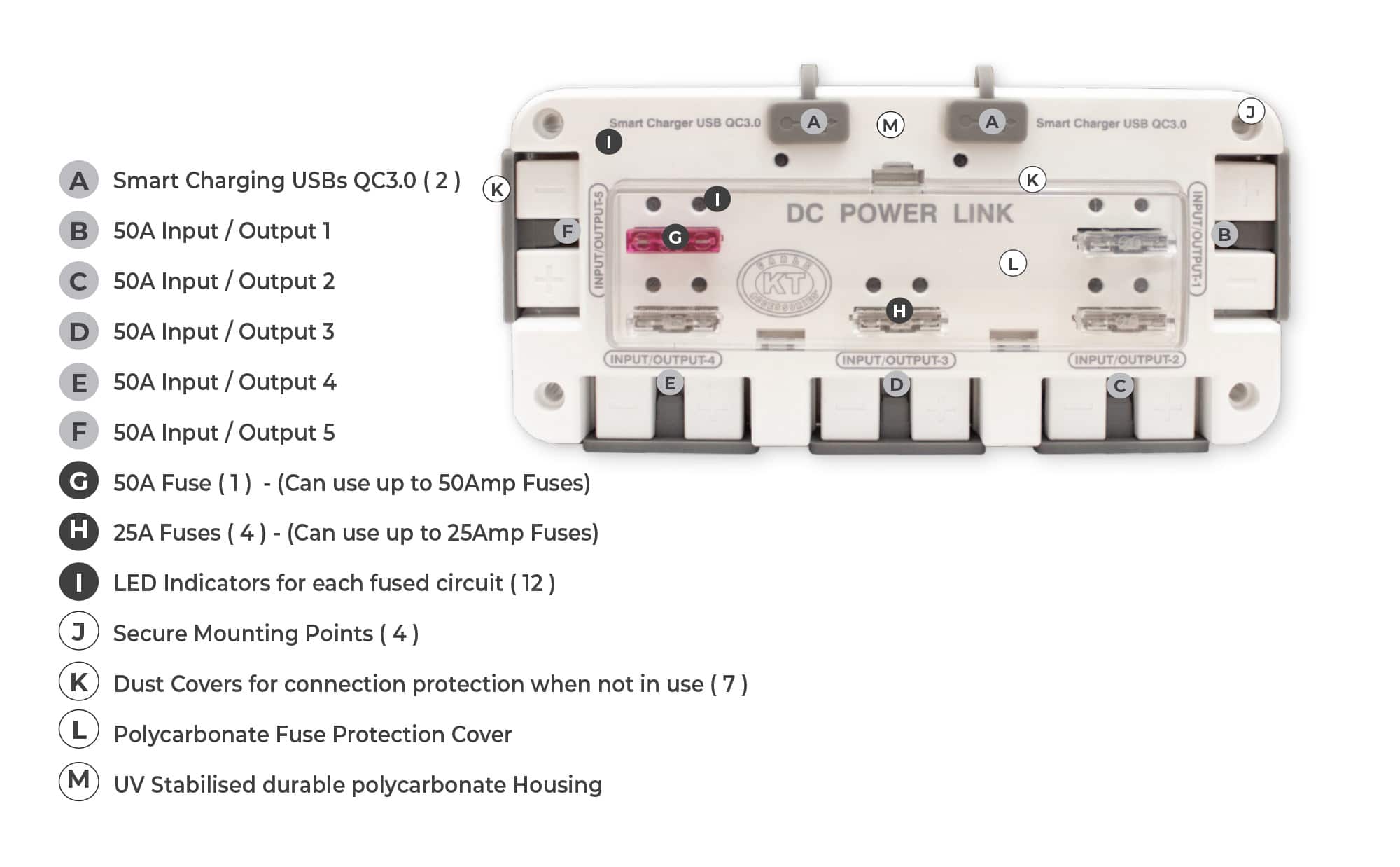 HOW TO OPERATE THE DC POWER LINK
Operating the KT 5 Way DC Power Link is very simple, however it depends on how you would like to use the module. The DC Power Link can be used in multiple configurations with a wide variety of devices including batteries, camping fridges, lighting, solar and devices that use USB to charge or power.
Remove the dustproof cover from desired 'Input / Output' and connect device via 50A Heavy Duty Connector. (25A Max per Output, 50A Total). For USB QC3.0, connect USB devices.
Once 'Input' is connected, DC Power Link is Live. Yellow LED's will indicate 'live' power to circuits. Blue LED's will appear for live USB Circuits. Red LED's will appear for circuits where fuse has blown or been removed. For Red circuits, do not use until fuse has been replaced and LED illuminates yellow (or Blue for USB).
To connect a 2.1A / 1A USB Device, remove the dustproof cover and connect device at any time. (Max total USB rating 3.1A).
Multi use configuration of Input or Output. Sockets are omnidirectional and can connect as many inputs (50A – Max 4) or Outputs (50A Max 4) as required. (USB Max 2).
HOW THE LED FUSE INDICATORS WORK
This product is supplied with 3 x 50A Fuse and 4 x 25A Fuses.
When fuse has blown, a Red LED indicator will appear closest to the fuse that has blown. This circuit should not be used until fuse has been replaced and LED illuminates yellow.
To replace fuses, simply use a Fuse Pulling Tool which can be purchased from any major Automotive or Electrical retail outlet. Simply replace the blown fuse with a Fuse of the same Amperage (50A or 25A Standard Blade Fuse).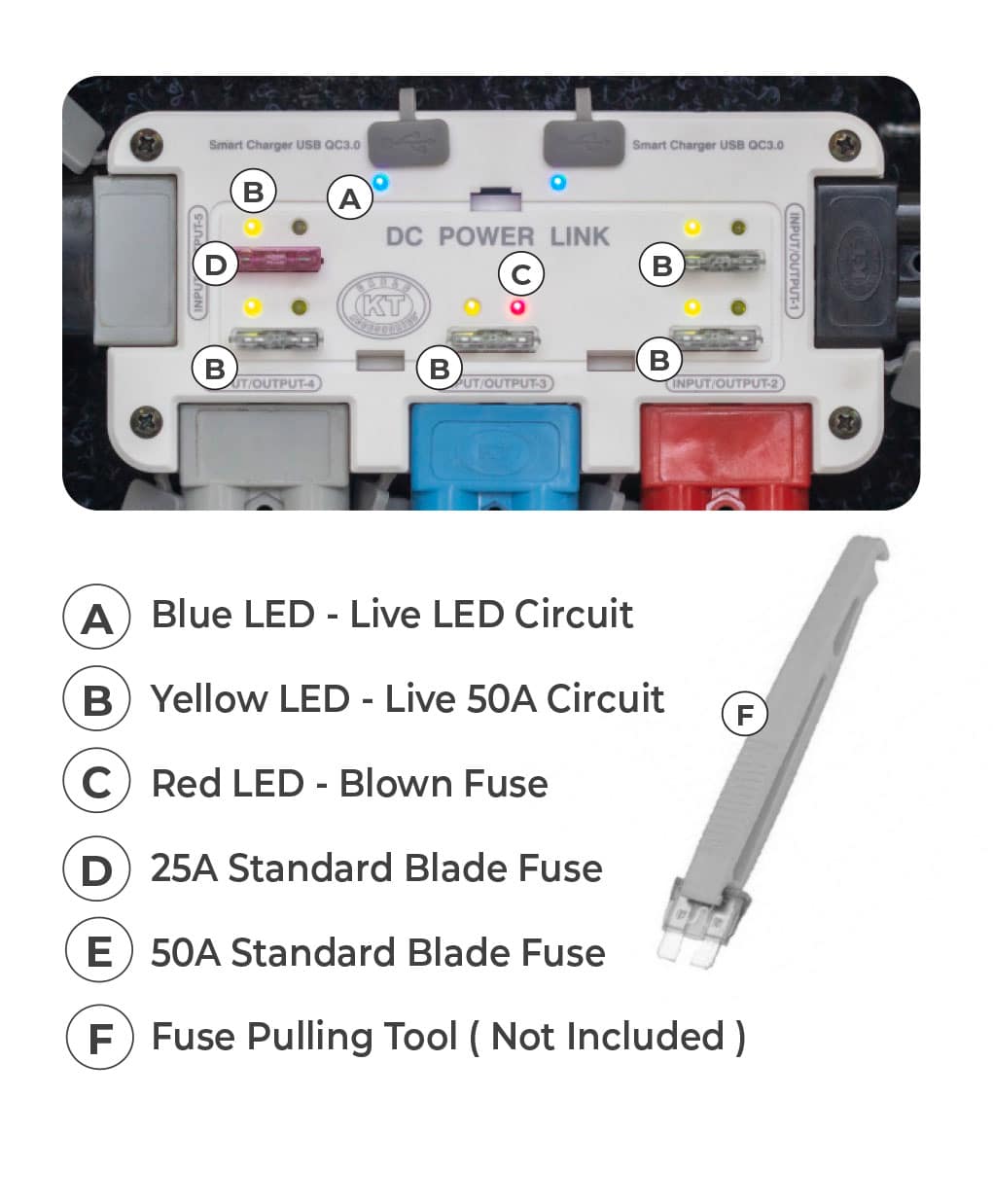 MEASUREMENTS & MOUNTING POINTS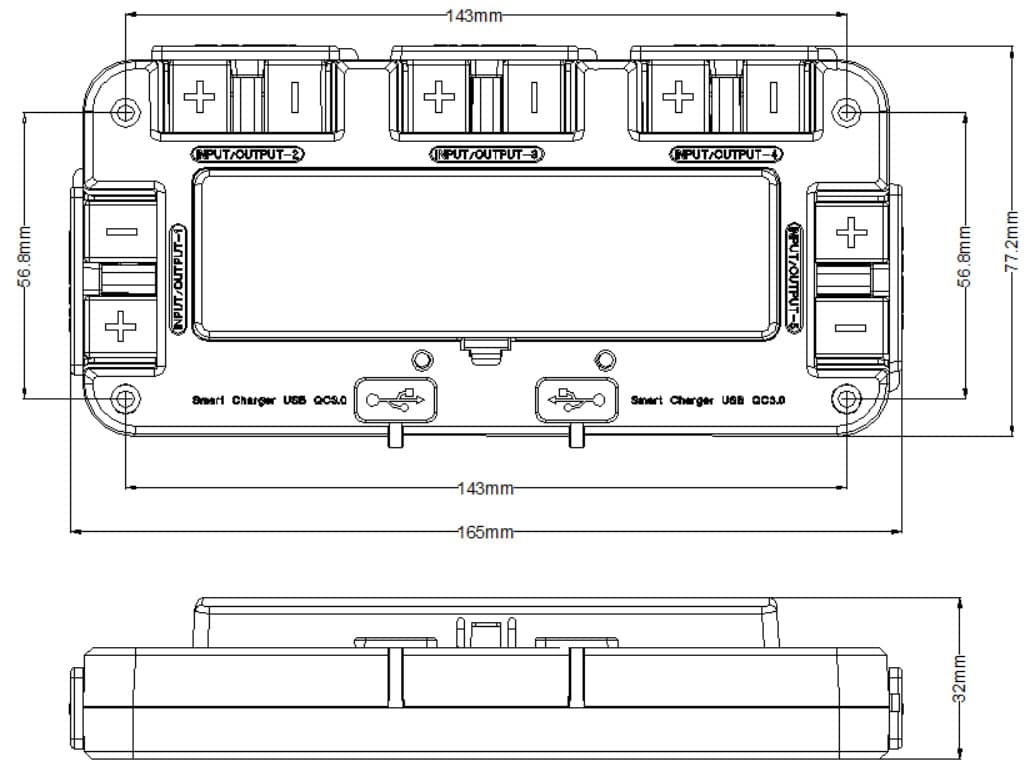 THE KT 5 WAY D POWER LINK CAN BE USED IN MULTIPLE CONFIGURATIONS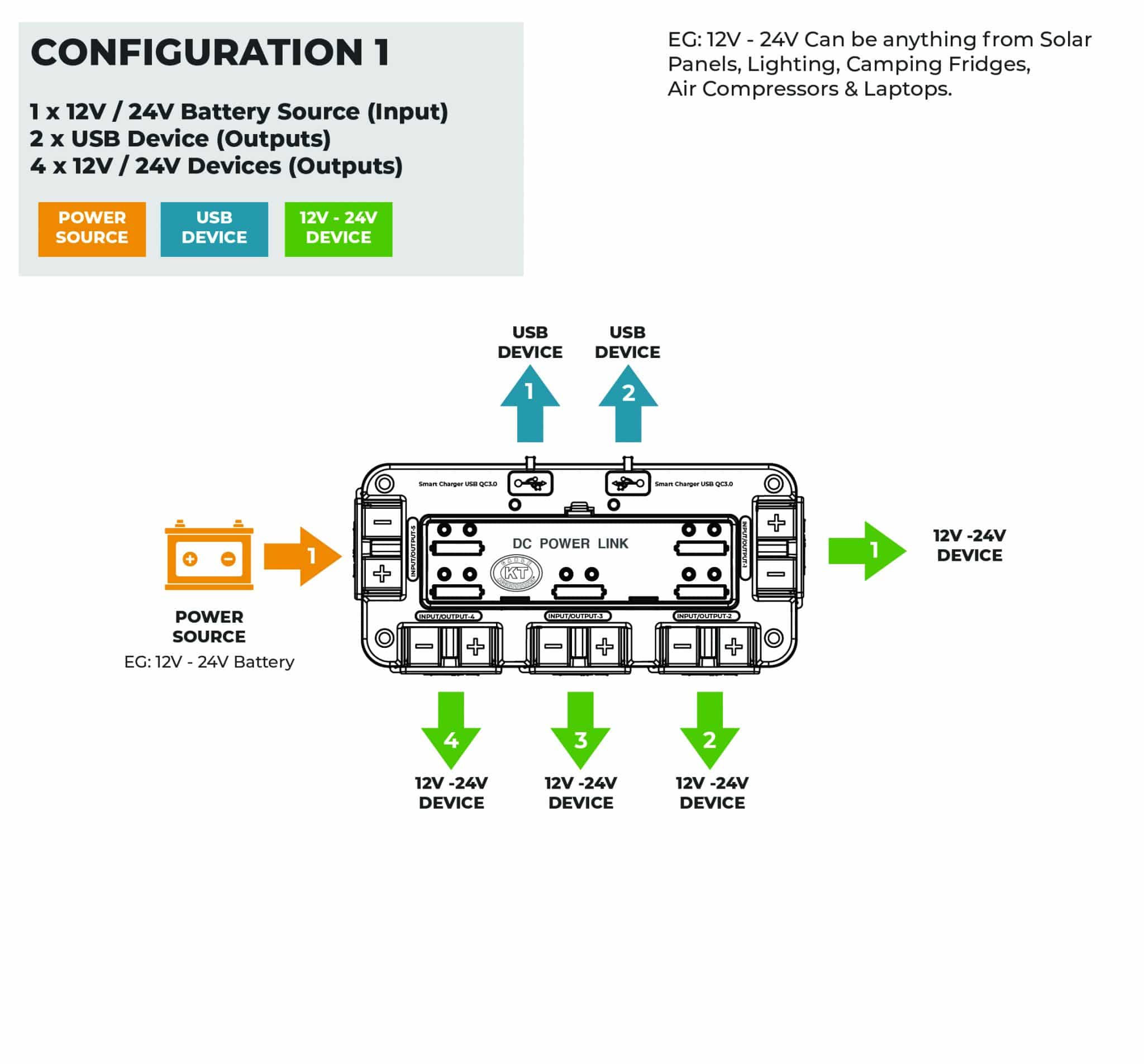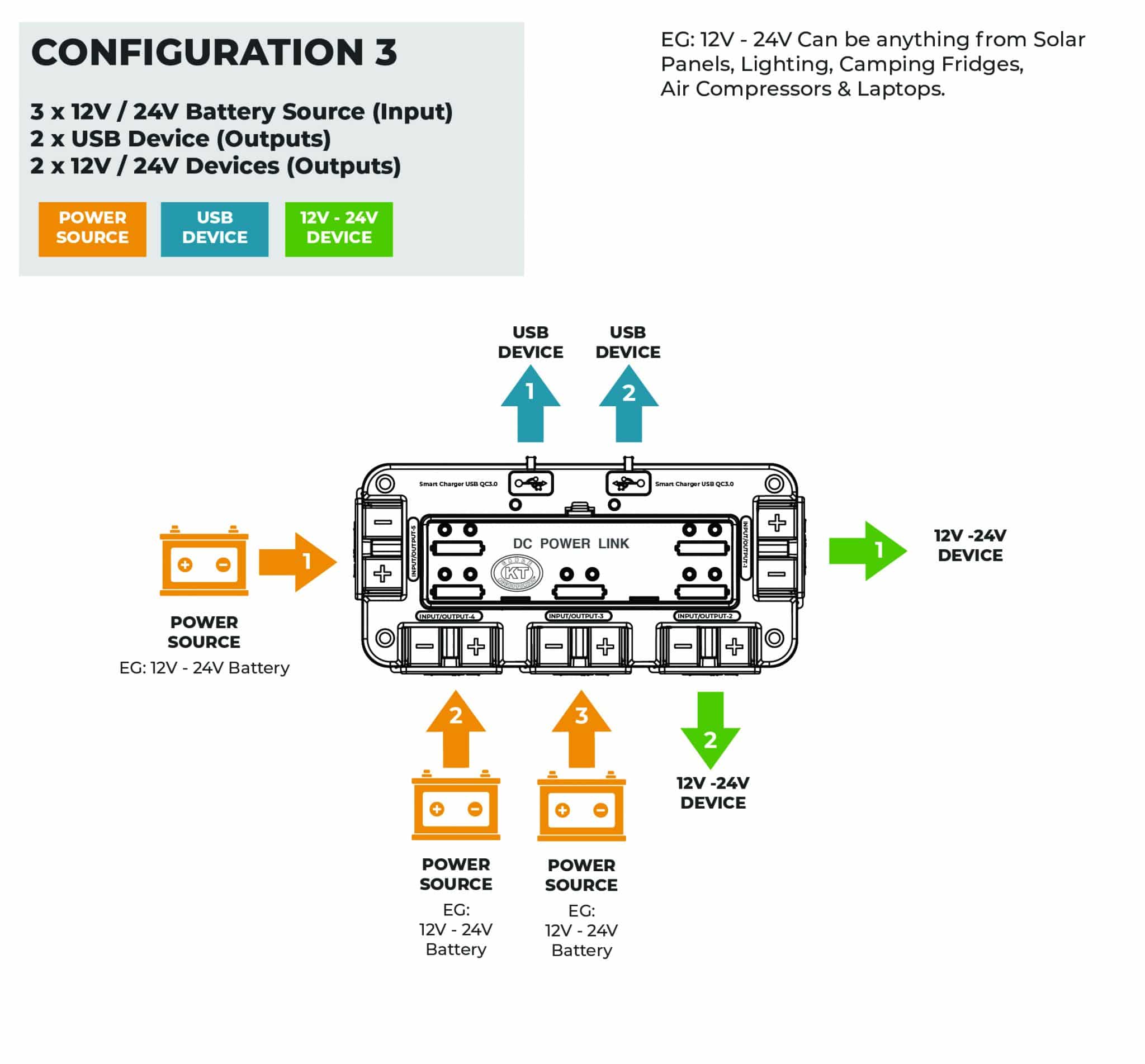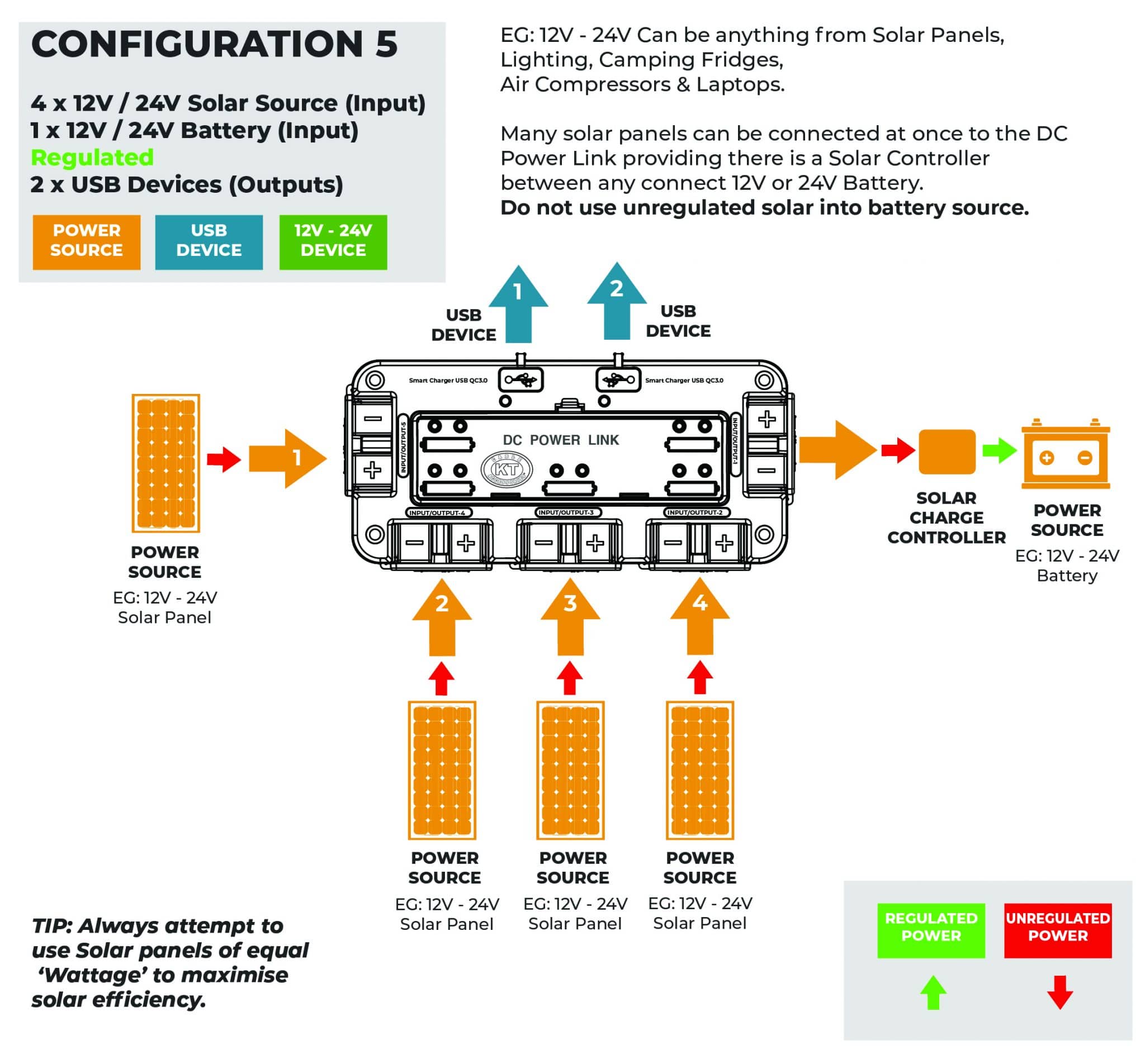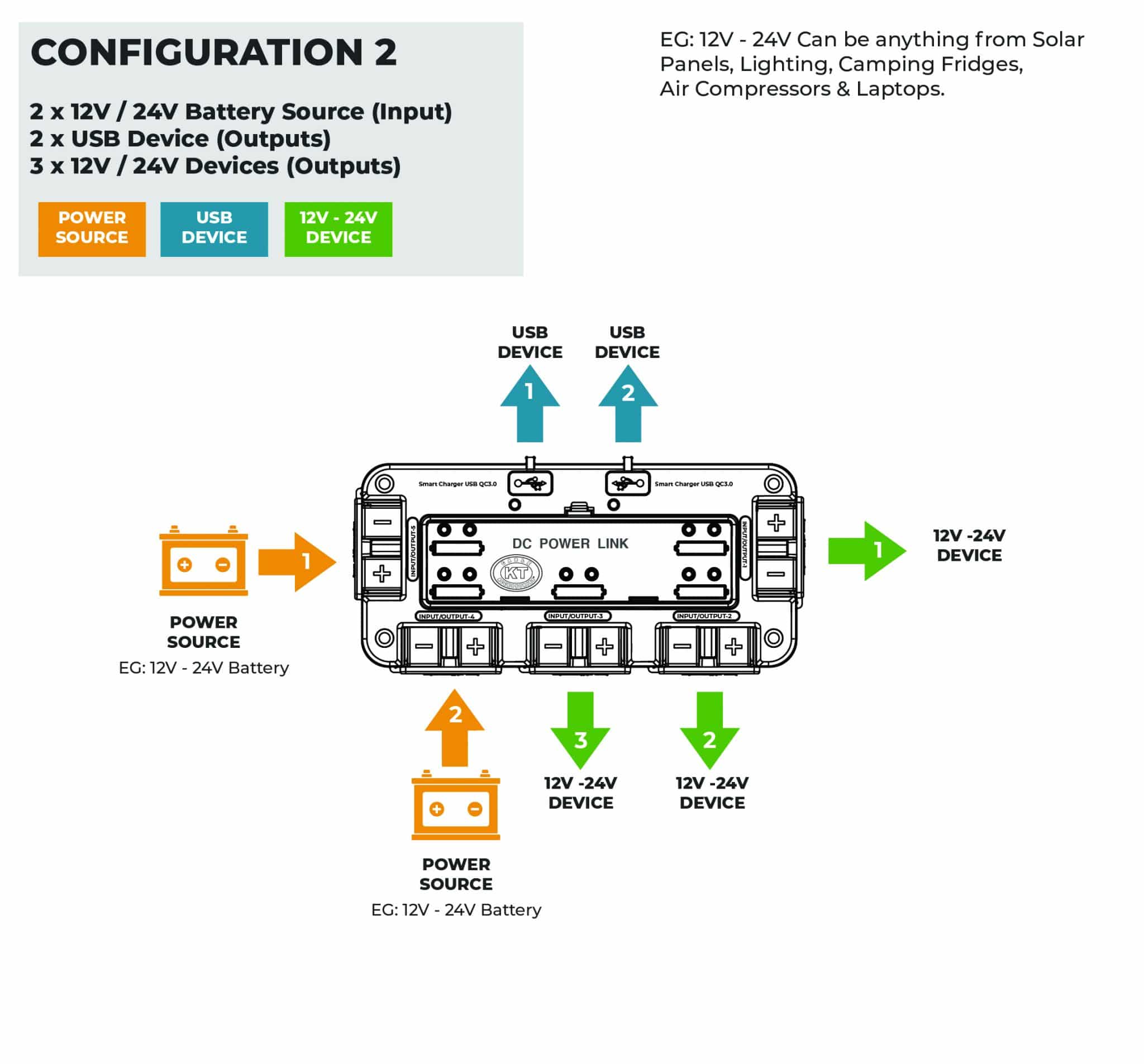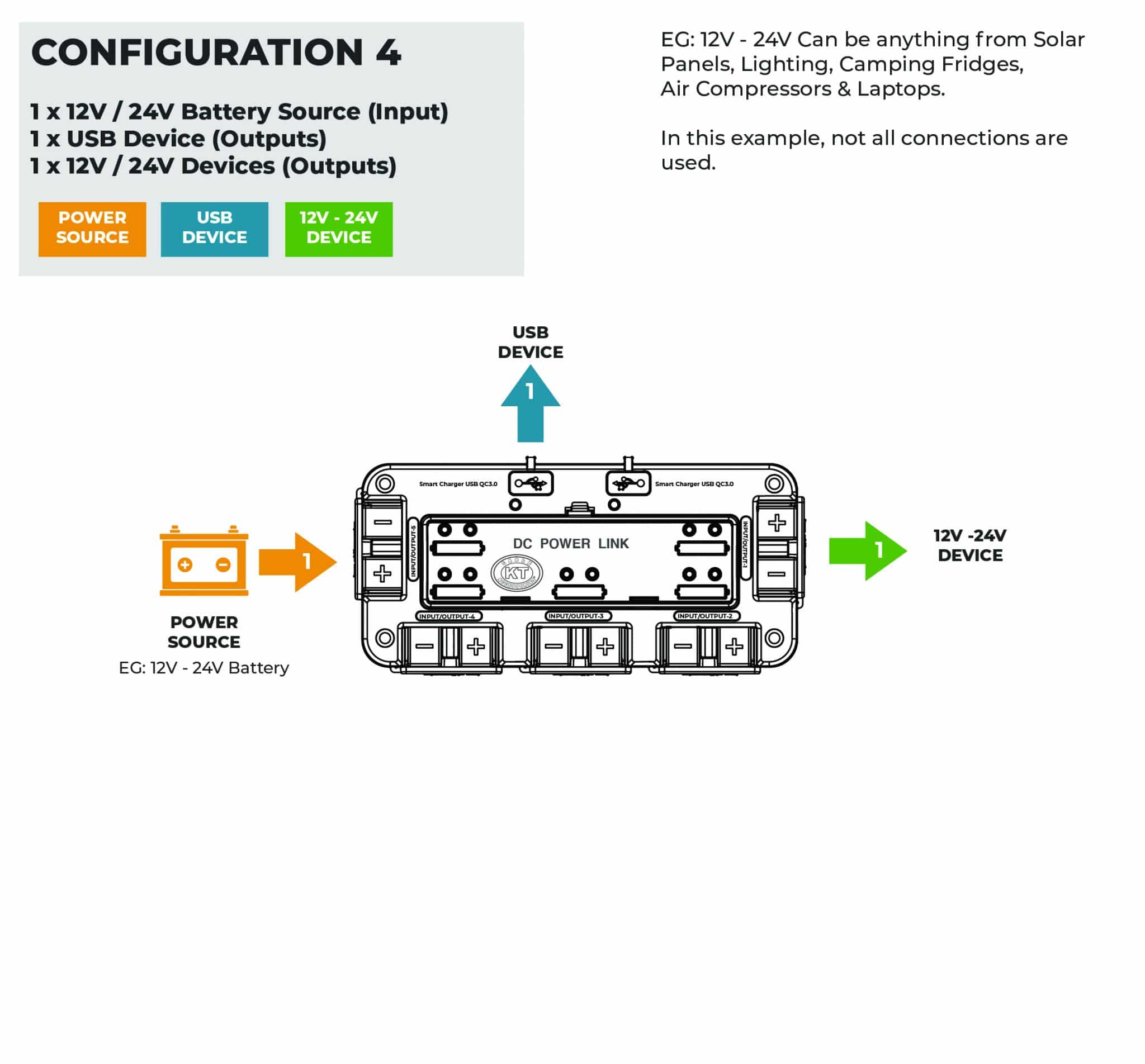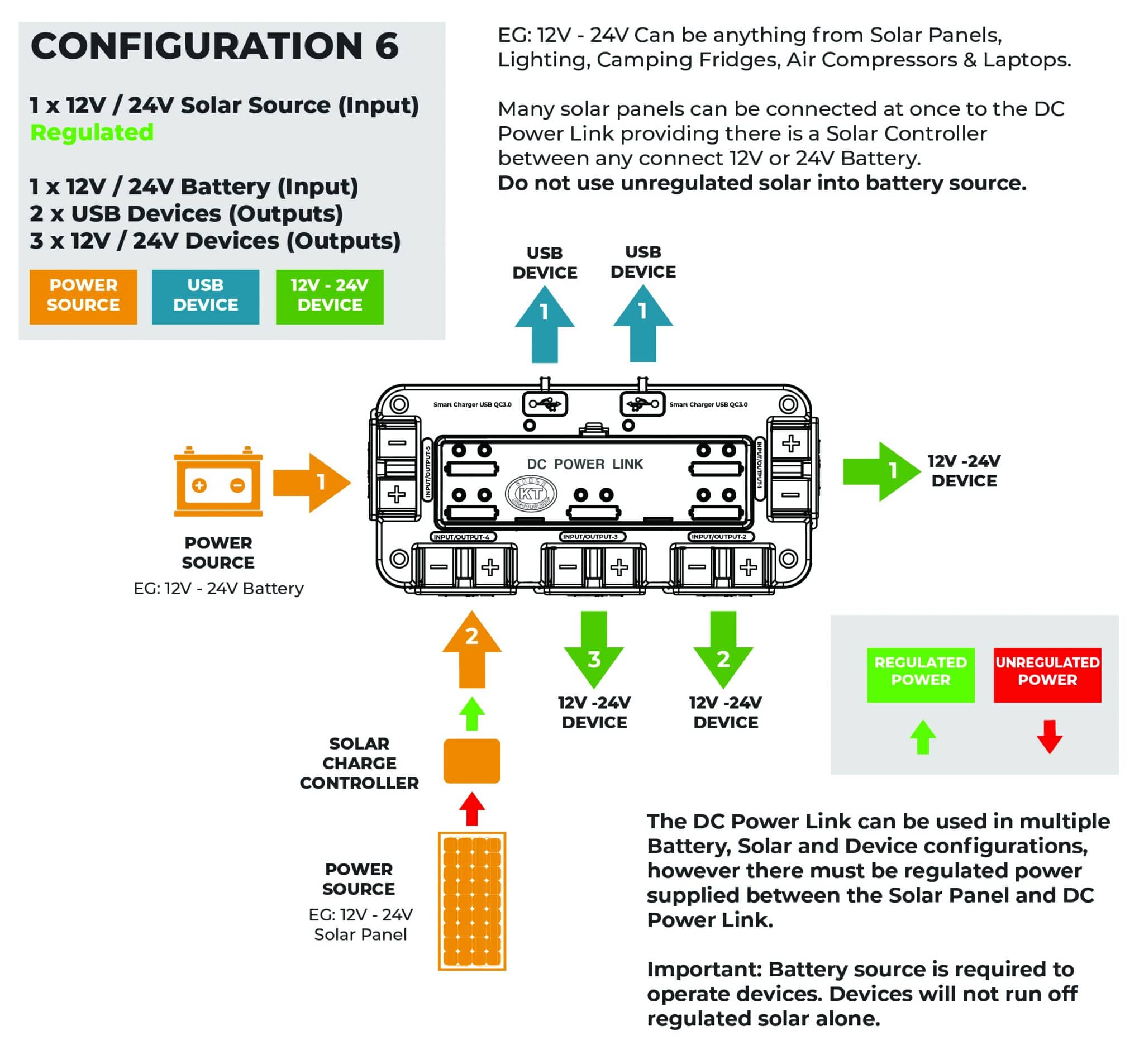 Does the KT 5 Way DC Power Link Work with Solar?
Yes, the KT DC Power Link is Solar compatible – infact, it is designed for use with solar and can be used in multiple configurations – Visit the Configurations section of this blog article for more information.
WARRANTY
This product carries an unconditional 12 Month Warranty against defects under the terms of the manufacturers warranty. Should the manufacturers warranty not comply with Australian Consumer Law, AECAA Pty Ltd Trading as Automotive Electrical & 4WD Accessories will provide a warranty against defects for 12 months from date of purchase on the following terms:
a ) For valid claims, Automotive Electrical & 4WD Accessories will replace the product free of charge.
b ) The warranty excludes defects from after sale damage, neglect, abuse, failure to comply with information provided in this manual, or incorrect installation. You bear all transportation costs to and from Automotive Electrical & 4WD Accessories.
c ) The Benefits of this warranty are in addition to any other rights and remedies available at law.
d ) Our goods come with guarantees that cannot be excluded under the Australian Consumer Law. You are entitled to a replacement or refund for a major failure and for compensation for any other reasonably foreseeable loss or damage. You are also entitled to have the goods repaired or replaced if the goods fail to be of acceptable quality.
For warranty claims:
a ) Return the product with receipt and original packaging (if available) to the store in which the product was originally purchased.
b) Email our team at warranties@ae4a.com.au with details of the products defects and our team will assist with a resolution.
locate a Stockist
To find your nearest stockist of the KT 5 Way DC Power Link . . .