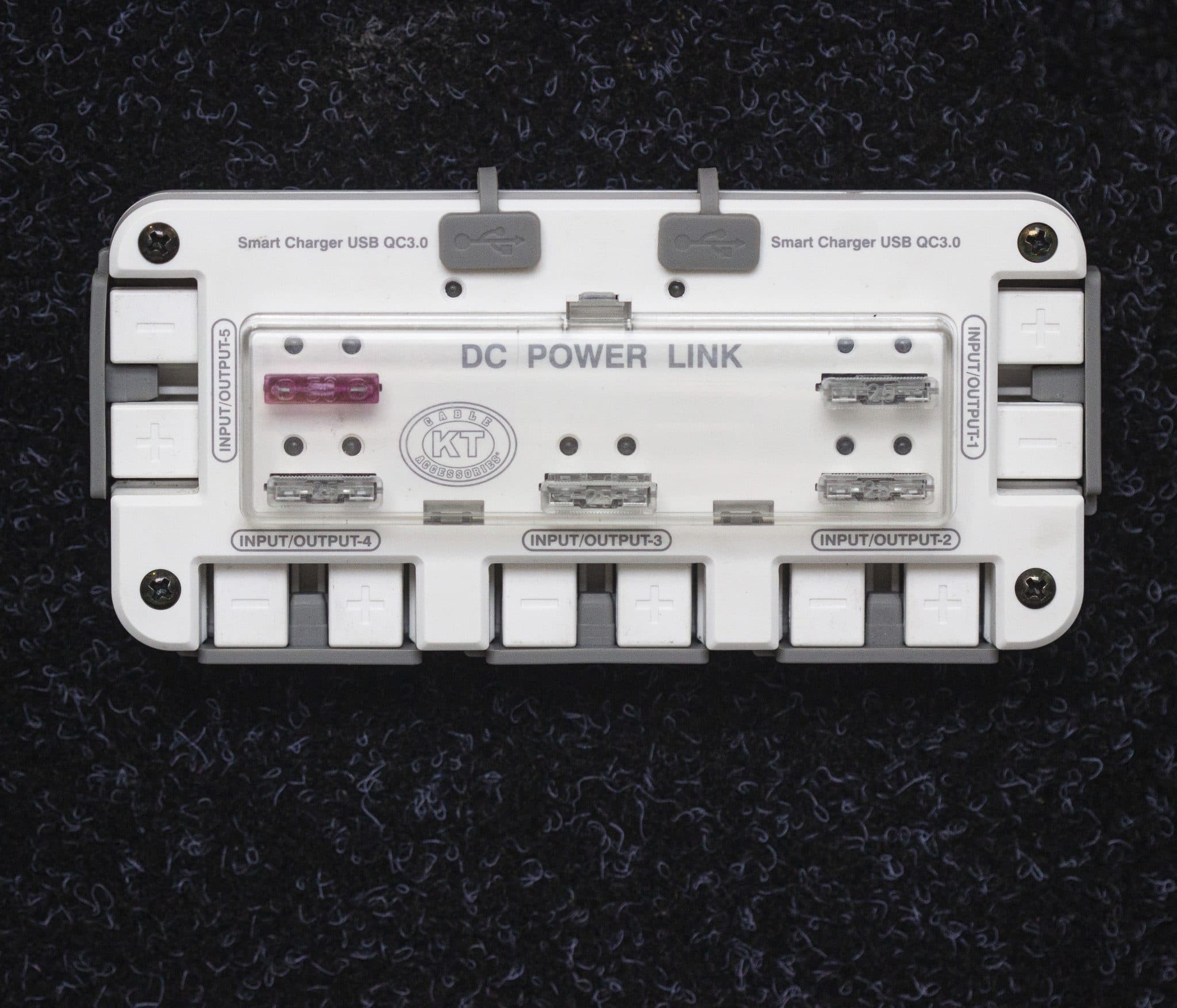 THE NEW & INNOVATIVE
KT 5 WAY DC POWER LINK
KT70602

The All New & Innovative KT 5 Way DC Power Link is the latest addition to the KT Solar & Power Accessories range, designed to simplify 12V – 24V connections.
The compact unit is 143mm (L) x 77.2mm (H) x 32mm (D) in size and can be mounted to surfaces via the 4 secure mounting points, with screws provided.
Key Features:
– Power up to 6 Devices Max at Once
– Suitable for a Wide Range Of 12V – 24V Applications
– LED Indicator Lights
– Dual QC3.0 USB Smart Charge Outlets (5V each)
– 4 Corner Points for Secure Mounting
– Each Circuit is Fuse Protected
– Easy Clip On / Off Polycarbonate Cover
– Suitable for Use with 12V & 24V Devices
– Moulded to Connect with 50A Connectors
– Durable for a wide-range of outdoor, 4WD Applications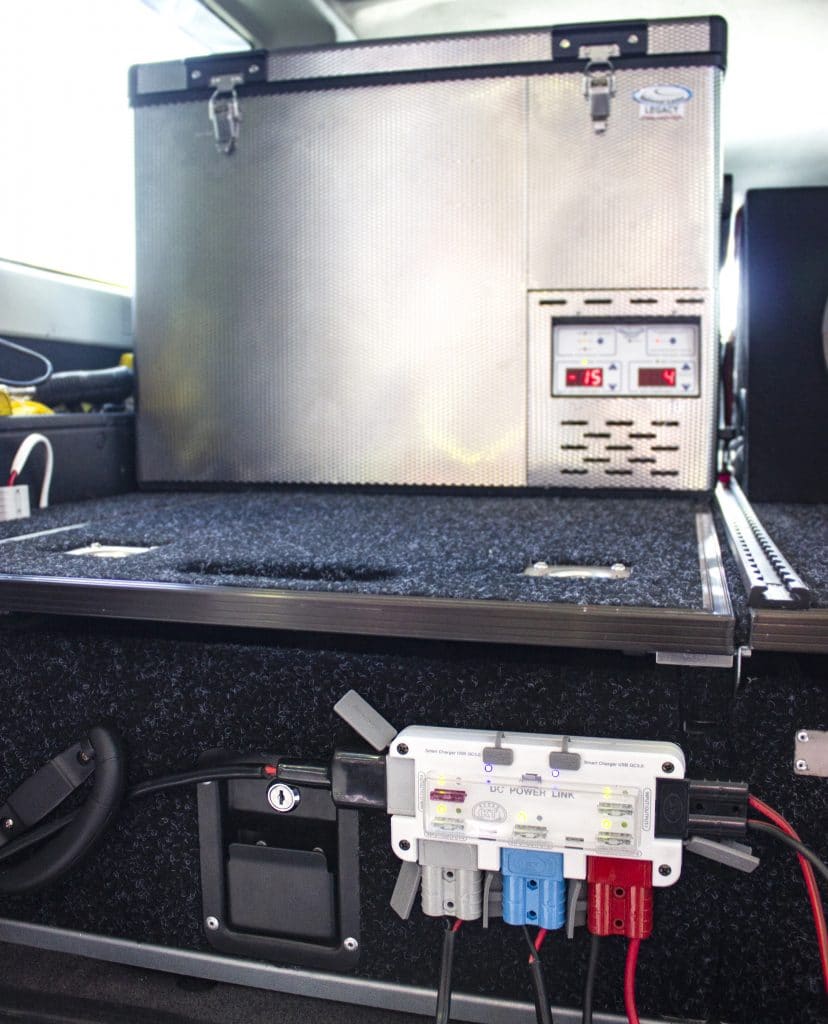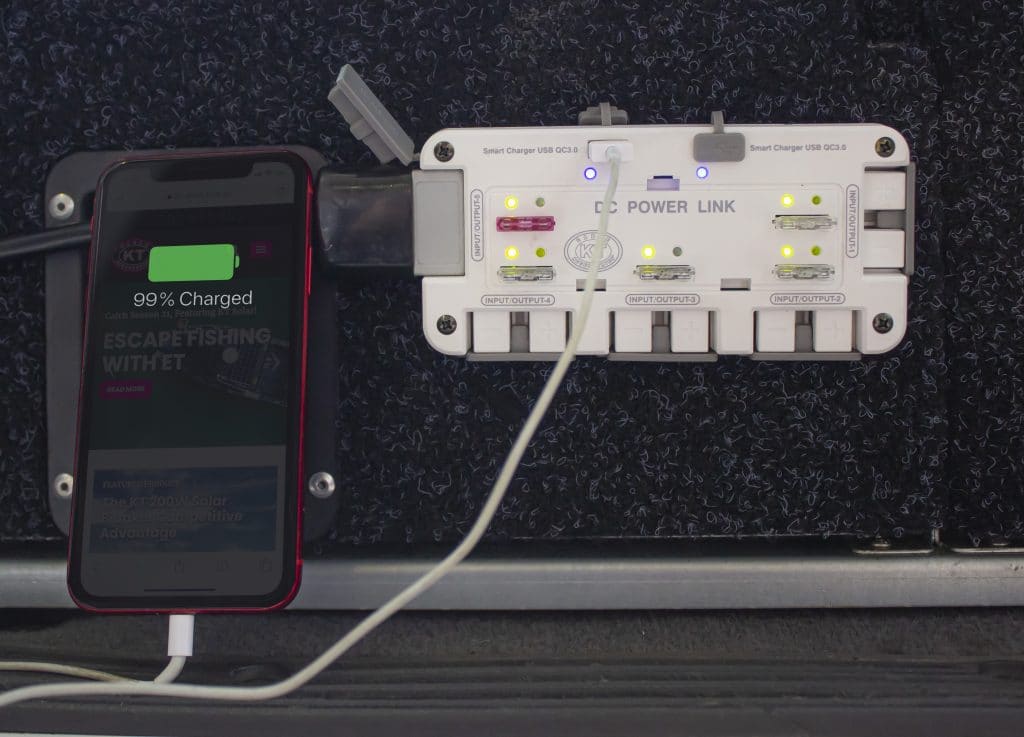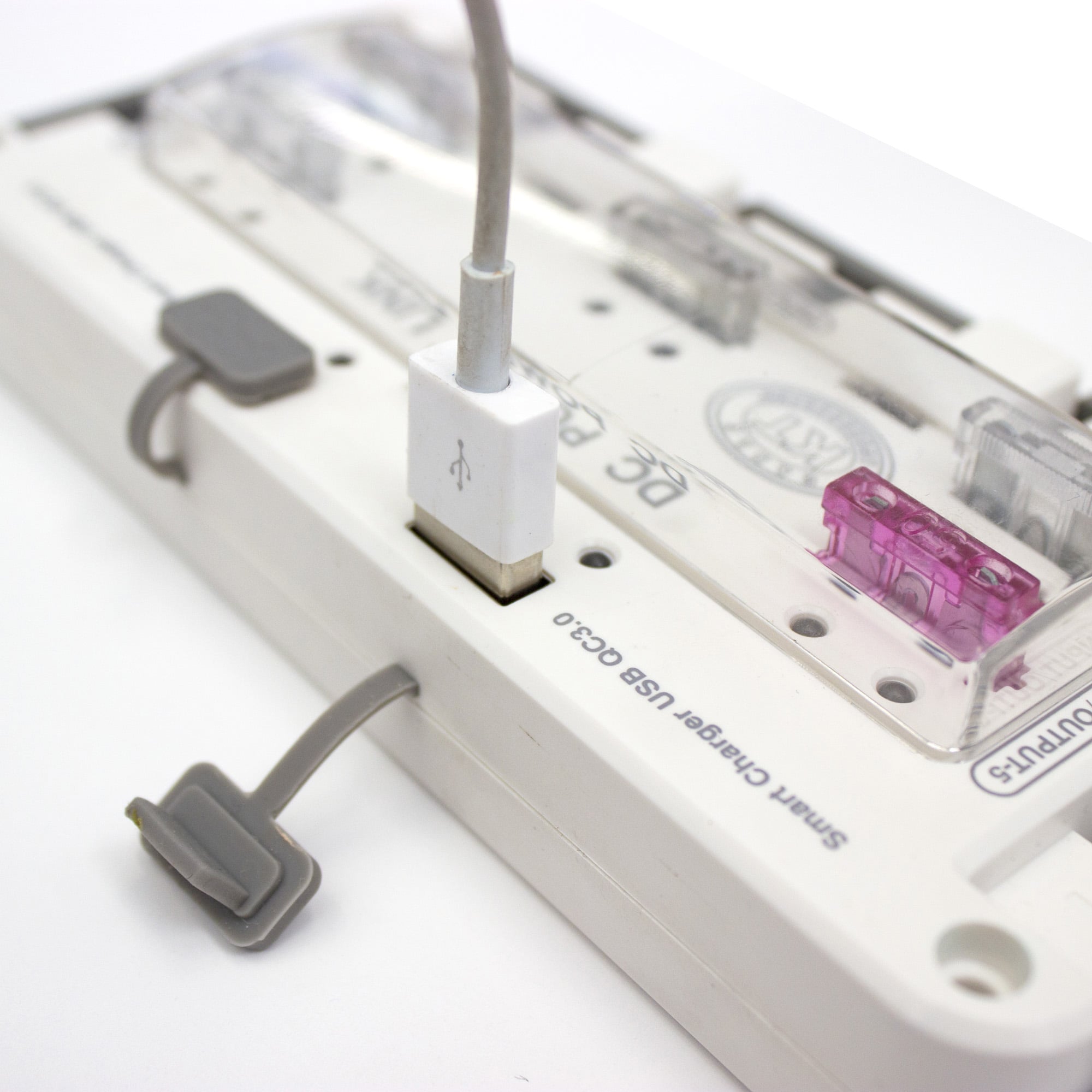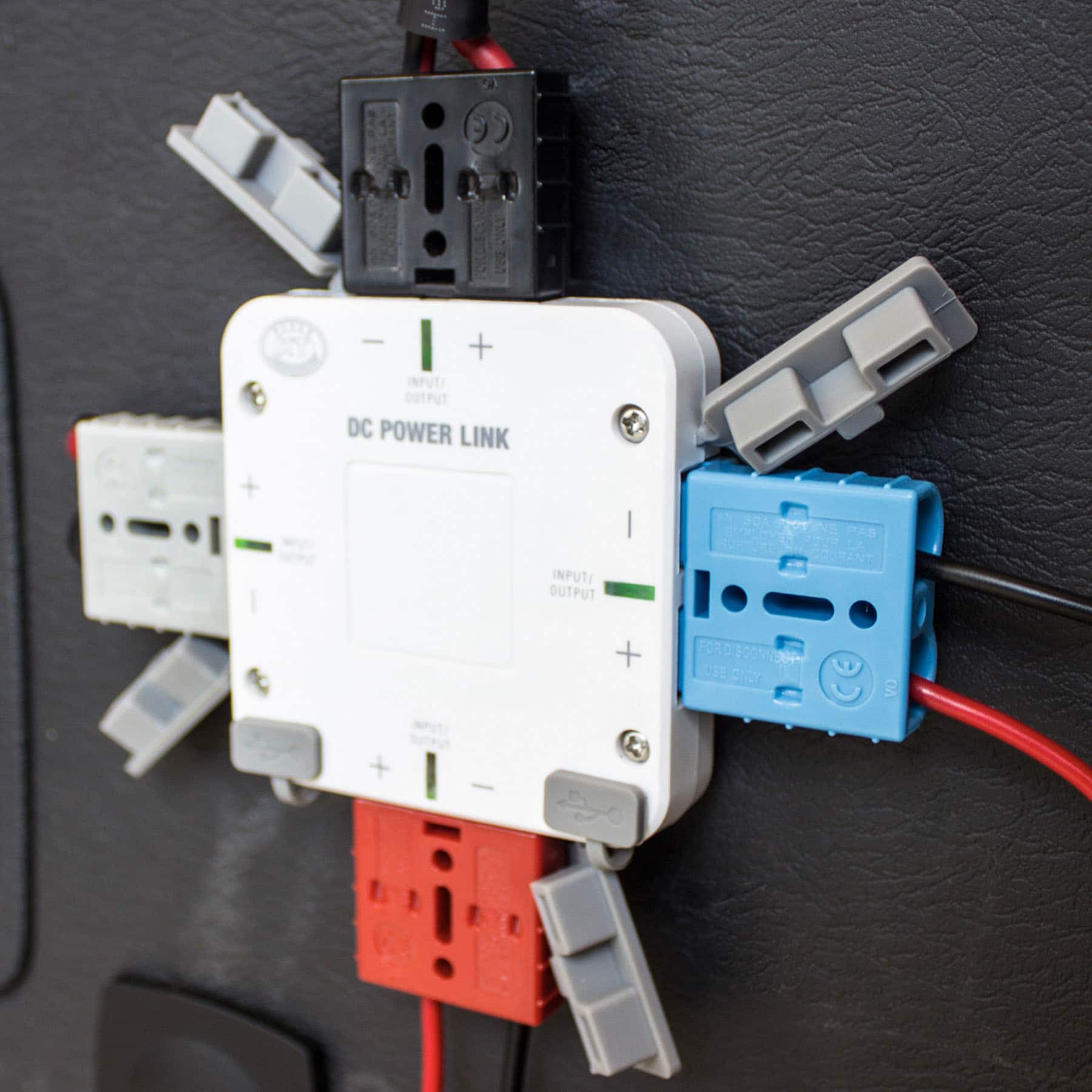 KT 4 WAY DC POWER LINK
MODEL No. KT70601

The Innovative KT 50Amp, 12-24V, DC Power Link is a sophisticated controller with omnidirectional capabilities. The device acts as a 'power board' for your 12/24V Devices.
The KT DC Power Link is essentially configured in parallel. The unit has 4 Input/Output options and can support up to 3 individual inputs from a battery source/12V solar. There are many possible configurations which can be utilitsed for optimal use.
Key Features:
– Suitable for 12-24V DC Operations
– LED Indicator to show live circuit
– 4 mounting points allow easy and secure mounting
– Stainless steel hardware included
– Dustproof and splashproof
– Housing material UV stabilised
– Dimensions: 86mm (L) x 86mm (W) x 22mm (H)
– Connects with 50Amp heavy duty connectors (grey, black, red, blue)
– Single input rated to 50Amp draw
– Each Output rated to 25Amps (50Amp total) at any onetime 2.1Amp and 1Amp USB Outputs (3.1Amp total)
– Warning (Not suitable for mounting in vehicle engine bays)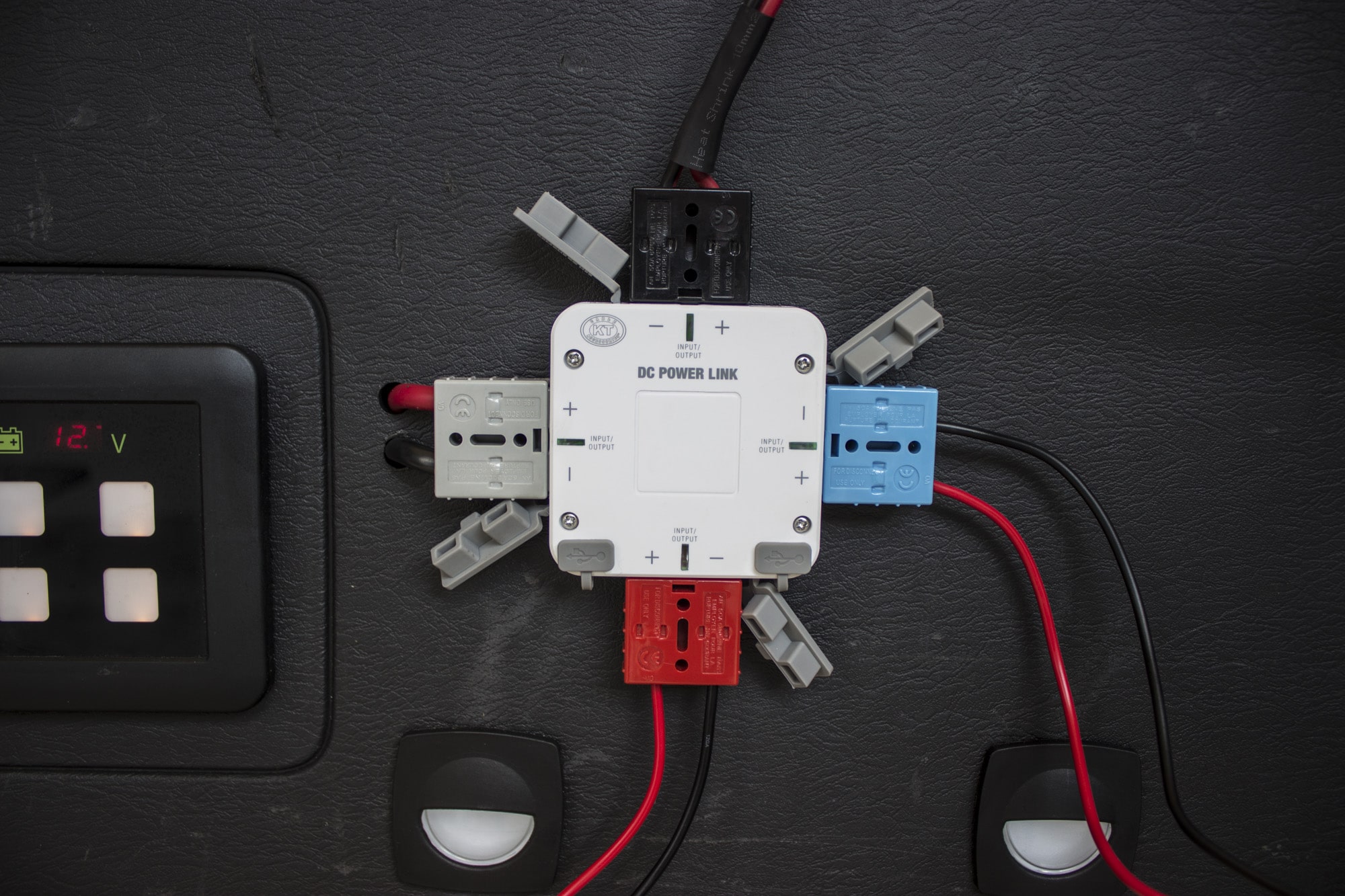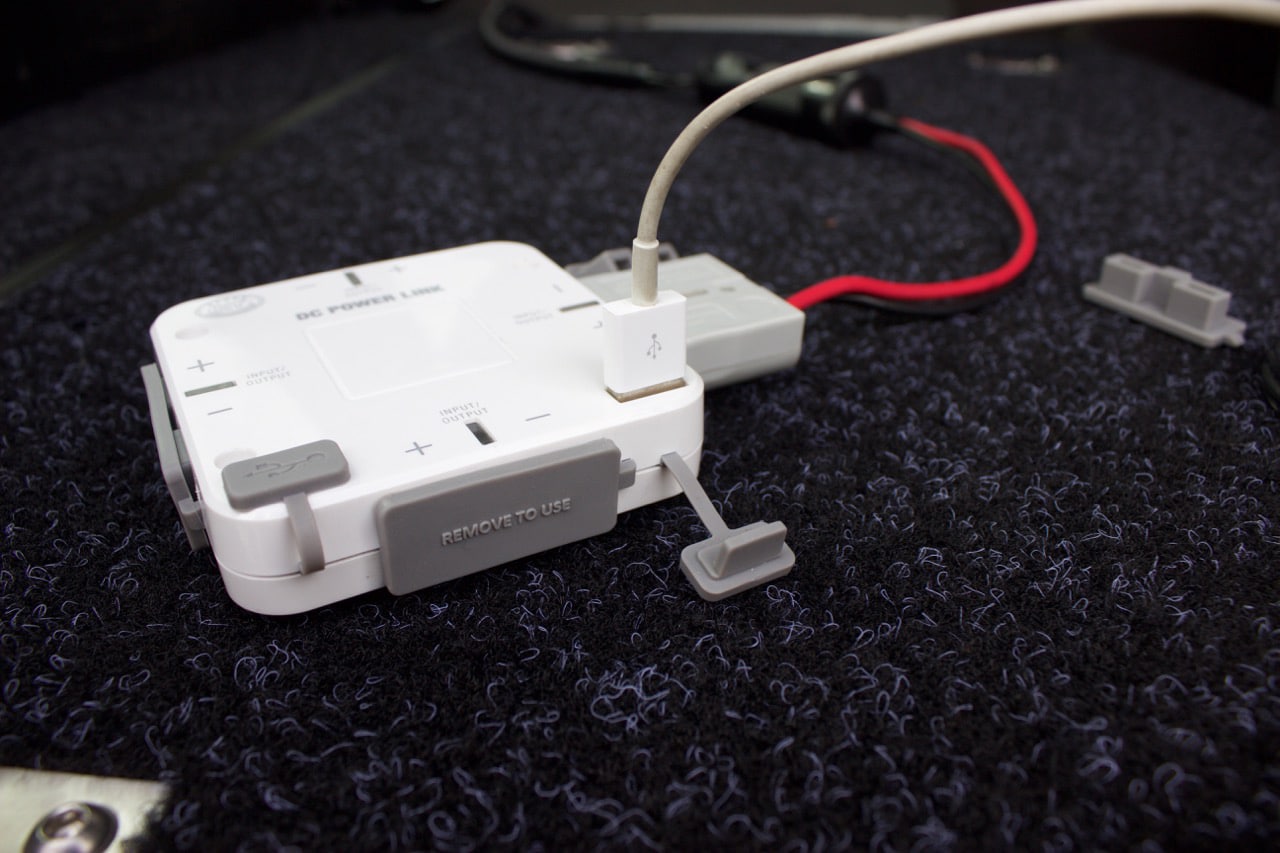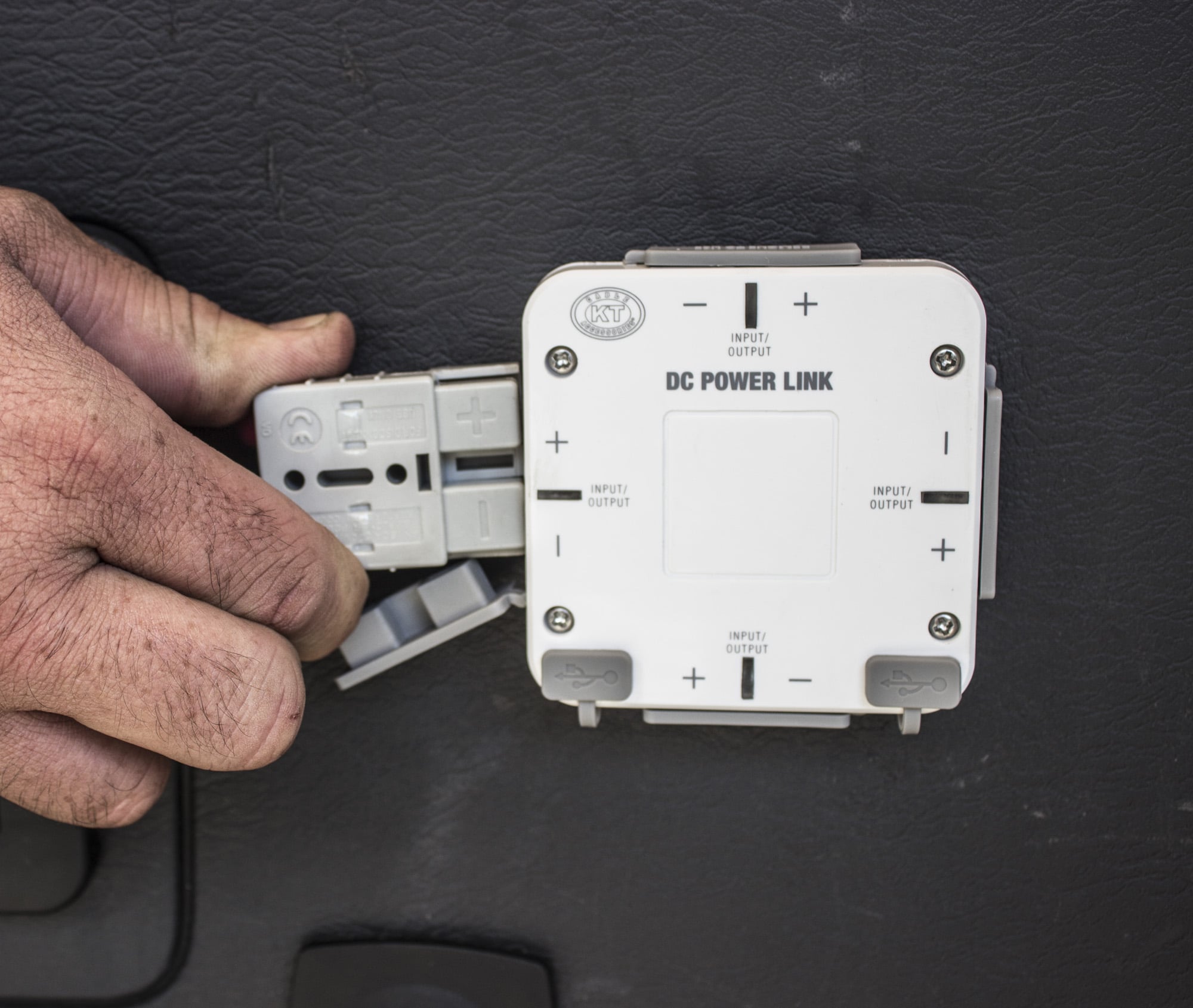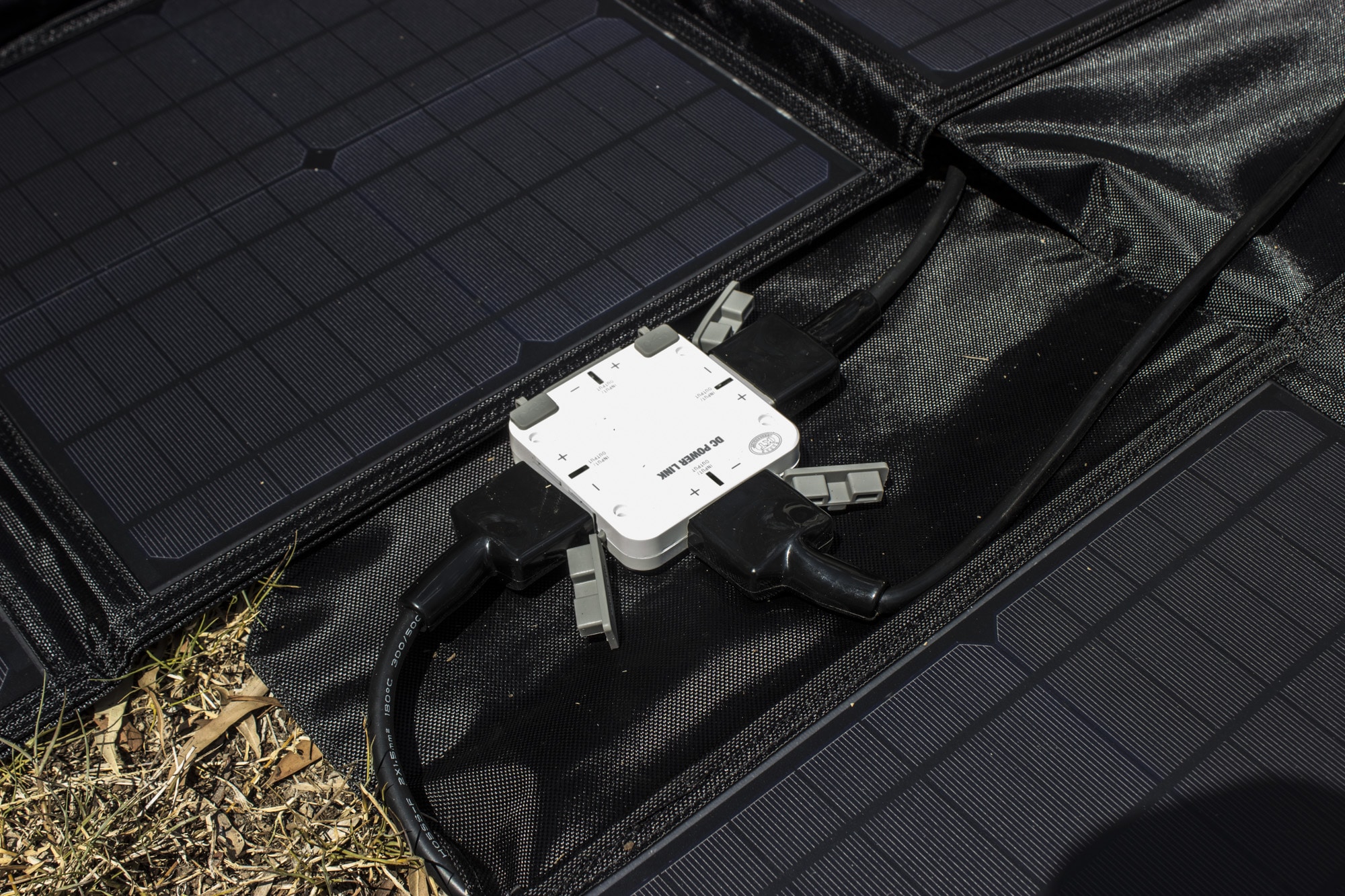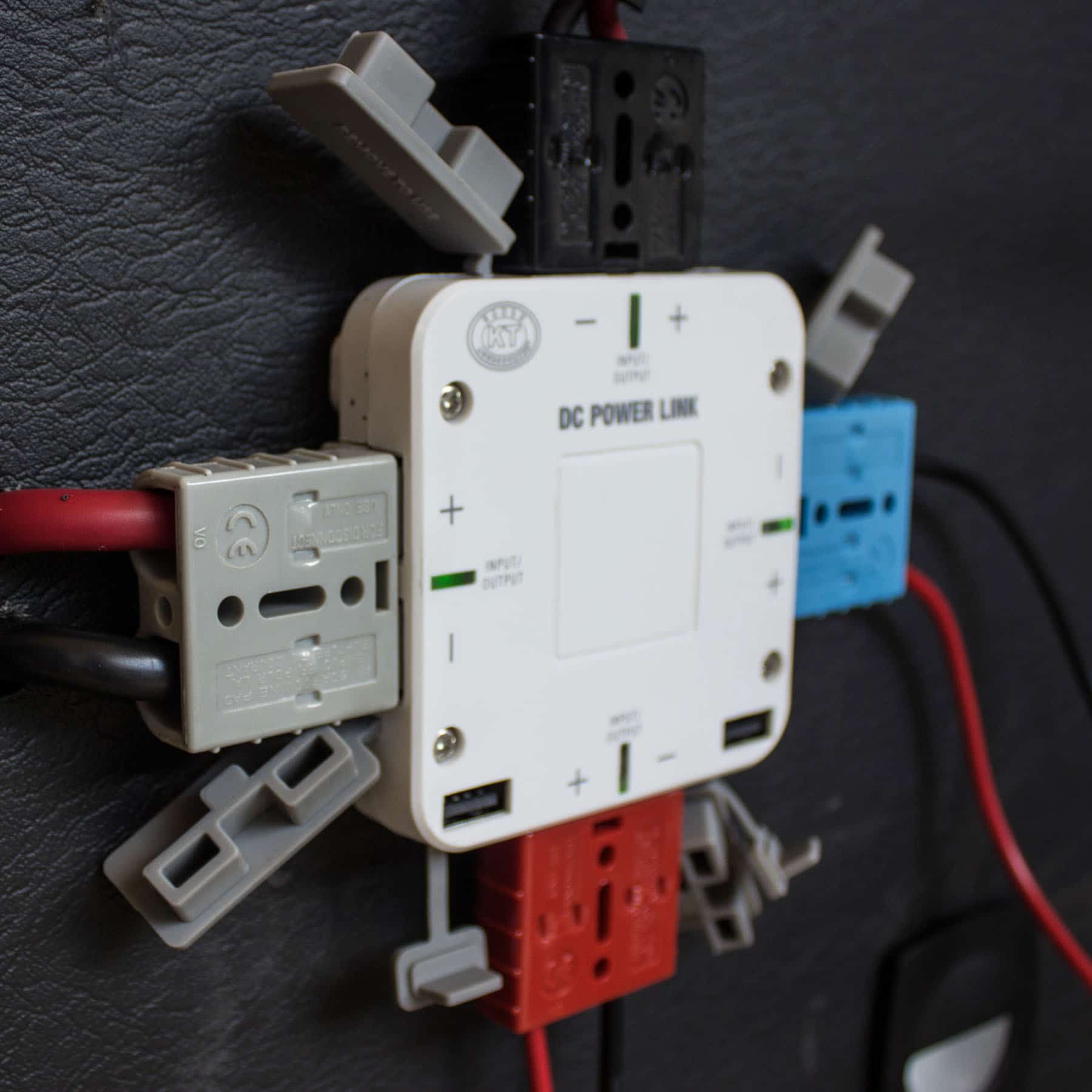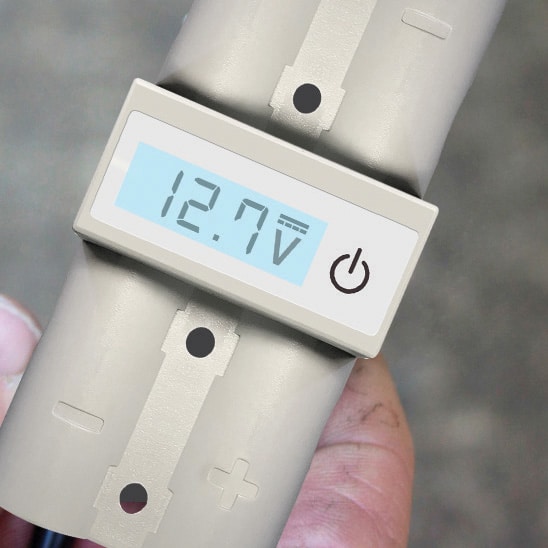 KT 50AMP, 12V HEAVY DUTY CONNECTOR WITH VOLTMETER



MODEL No. KT70554
The new & improved KT 50Amp Heavy Duty Connector with built in Voltmeter now features a superior back-lit high-visibility screen for clearer discernability of readings; day or night.
The KT Voltmeter will provide a live voltage reading of your power connection. To view the voltage reading, simply tap the power icon on the unit. The voltage reading will turn off automatically after 30 seconds.
The KT 50 Amp Heavy Duty Connector with Voltmeter is ideal for a variety of Automotive, Marine Camping and Solar applications.
Key Features:
– Provides live voltage reading via Smart-Touch– LCD Display– Reading appears with touch & turns off automaticallyafter 30 seconds– Waterproof LCD display (IP67 Rated)– Voltage: 12VDC at 50Amps– Suits cable size: 8B&S (8mm)– Pin Material: Nickel plated copper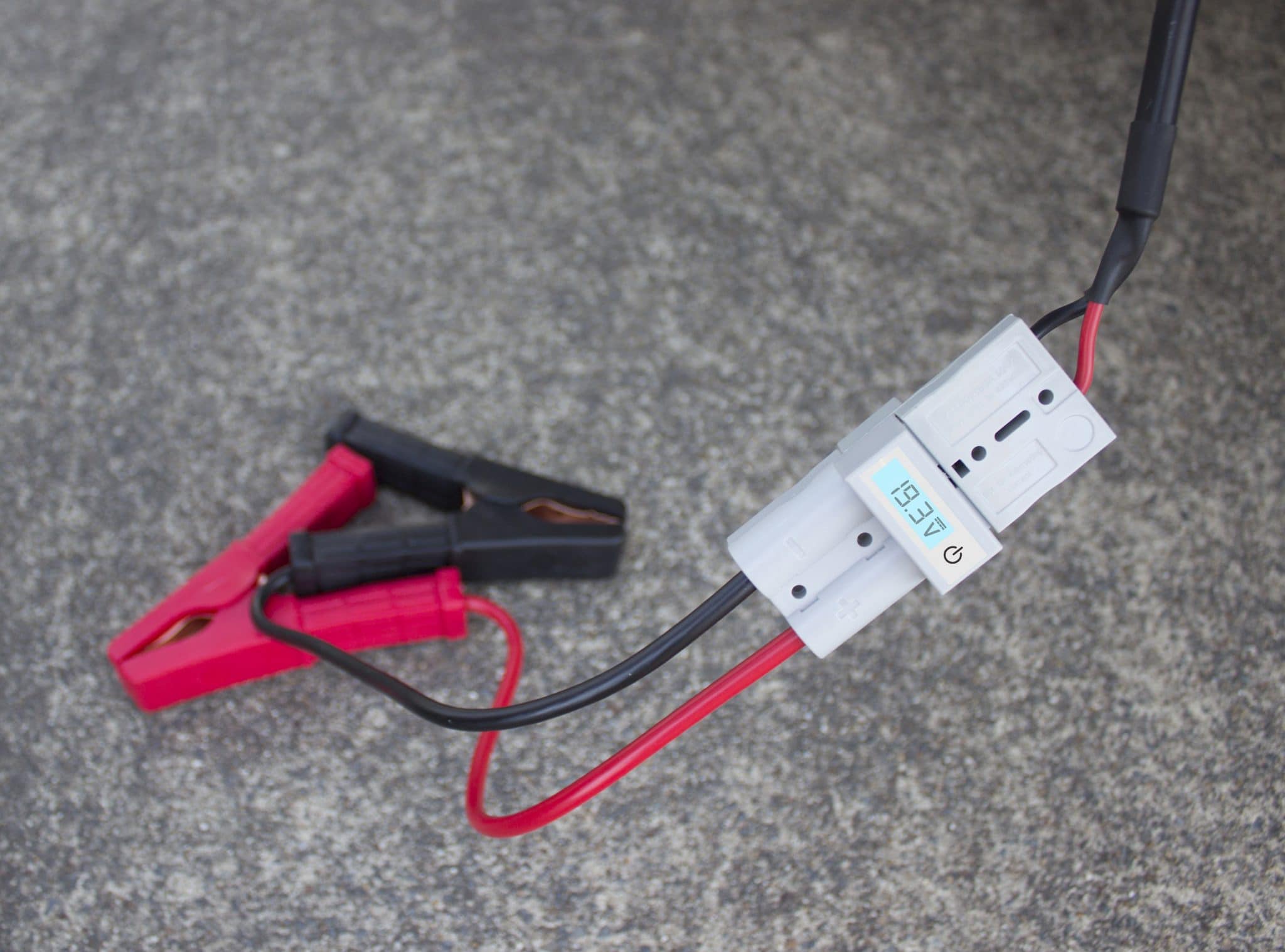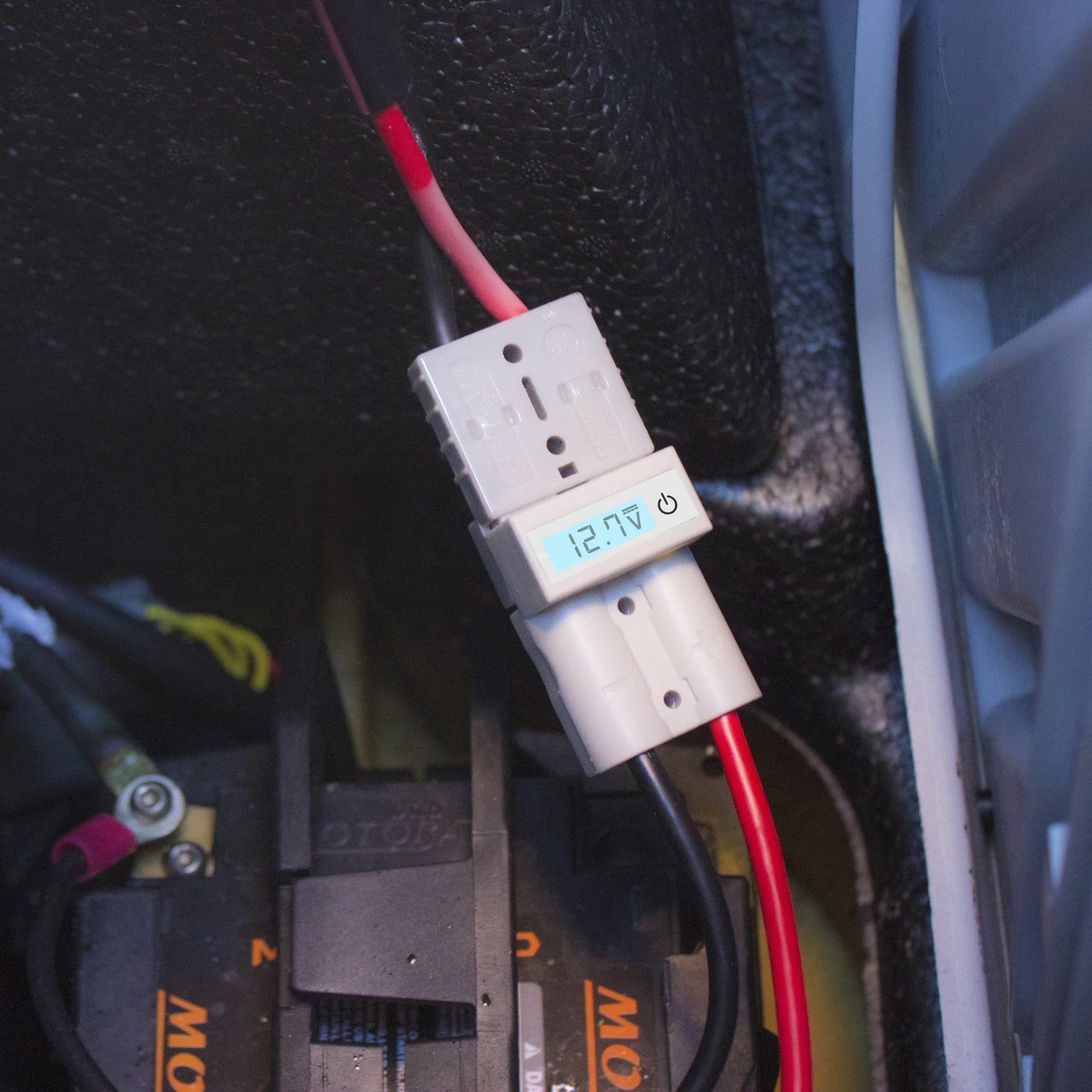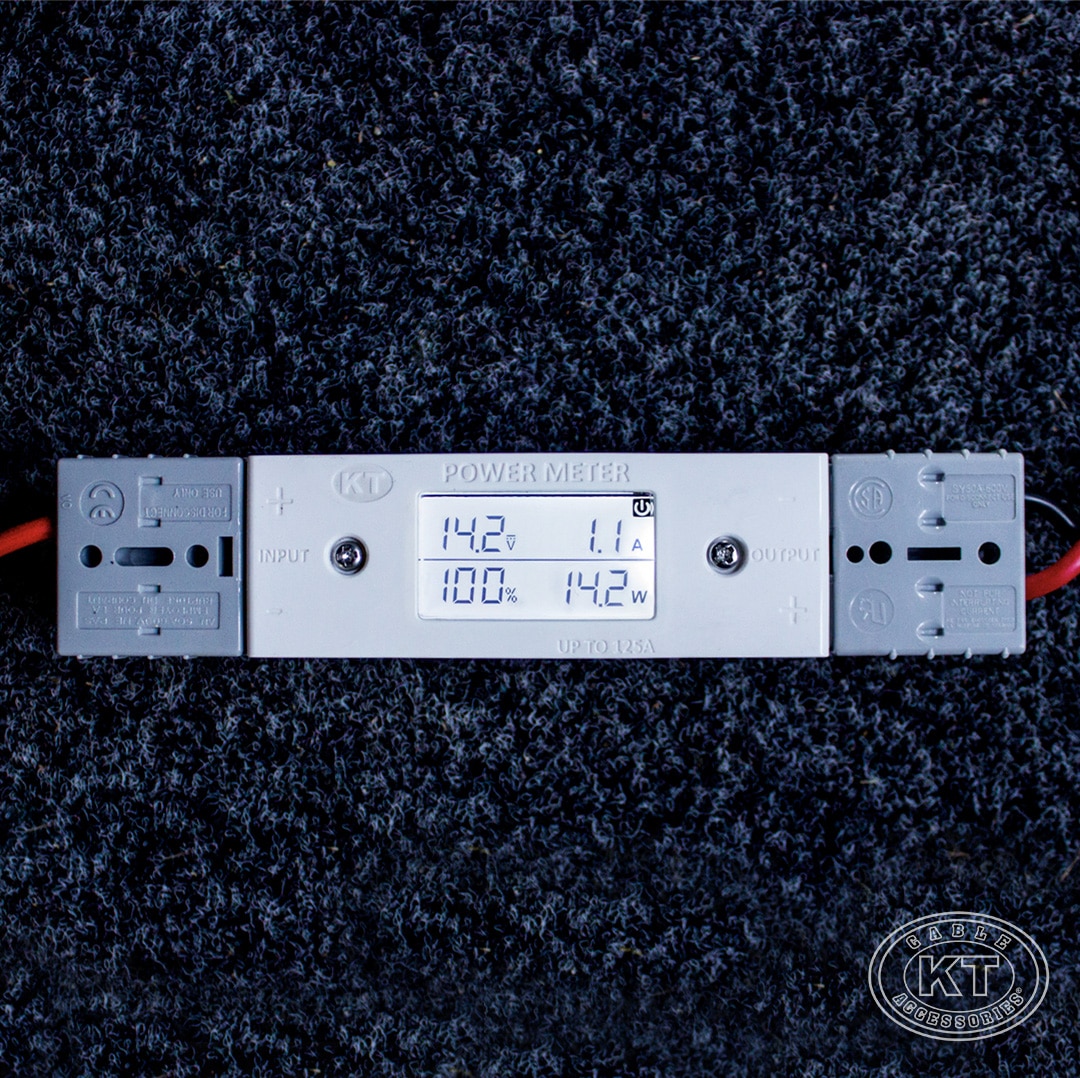 KT 100V, 125A IN-LINE POWER METER
VIEW VOLTS, AMPS, WATTS & BATTERY PERCENTAGE IN REAL TIME
MODEL No. KT70752

The Innovative KT 100V, 125Amp In-Line Power Meter provides an easy way to view the Volts, Amps, Watts and Battery Percentage of your 12V, 24V or 48V devices by a simple touch of the LCD Display.
This unit is suitable for use with any 12V/24V/48V application and ideal for use with Solar Panels, Camping & Marine Applications, 4×4 & Caravan Applications and more!
Key Features:
– Measure Volts, Amps, Watts and Battery Percentage of
12V/24V/48V devices in real-time
– LED Touch Display
– Display turns off automatically after 30 seconds
– Mounts easily to surfaces with 2 screws
– Easy to identify Input (Commonly known as source) and output
(Commonly known as Load)
– Unique input & output designed to suit 50 Amp connectors
– One piece, durable unit with no messy cables
– Back-lit display provides clear, visible readings day & night
– IP67 rated – Dust proof, Shock proof & Splash proof
– Dimensions: 100mm x 35mm x 20mm
– Housing manufactured from durable polycarbonate
– One Way 'In-Line' Reading from Input to Output (Non-Bidirectional')