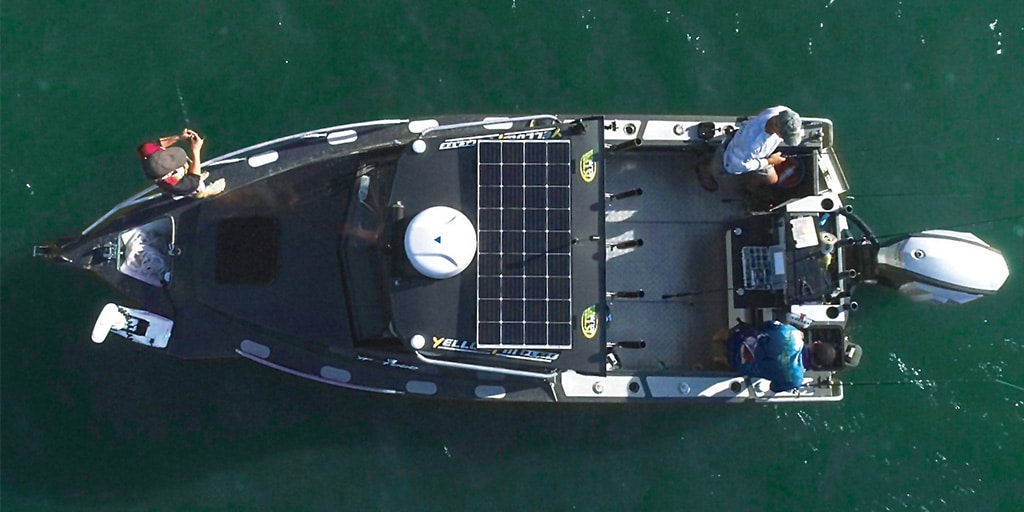 Guide to setting up your solar system
Many people don't know where to start when it comes to setting up their solar system – with the common misconception that it is 'difficult to understand'… however this is generally due to misunderstanding of what products are required, and where they are placed throughout the system & their purpose. 
KT Solar's D.I.Y. Recreational Solar Display makes this process easy to understand, breaking down the whole process for you.
Simply select your solar panel
to suit your applications, battery & loads
Select your solar controller
to suit your solar panel & battery
Select your leads & accessories
required to connect your system all together
Whether you are fitting solar to the rooftop of your 4WD, Caravan, Motorhome, RV, Yacht, installing solar to charge your electric fence batteries and for other 12V rural applications, or simply looking for a basic portable solution, KT Solar has THE SOLUTION for you!
UNDERSTANDING WHAT PRODUCTS ARE REQUIRED IN YOUR SOLAR SYSTEM & THEIR PURPOSE.
To make it easy, we have broken down all of the components required in a basic 'Single & Two Battery' Solar Installation, along with the step-by-step process of selecting the products to build your system.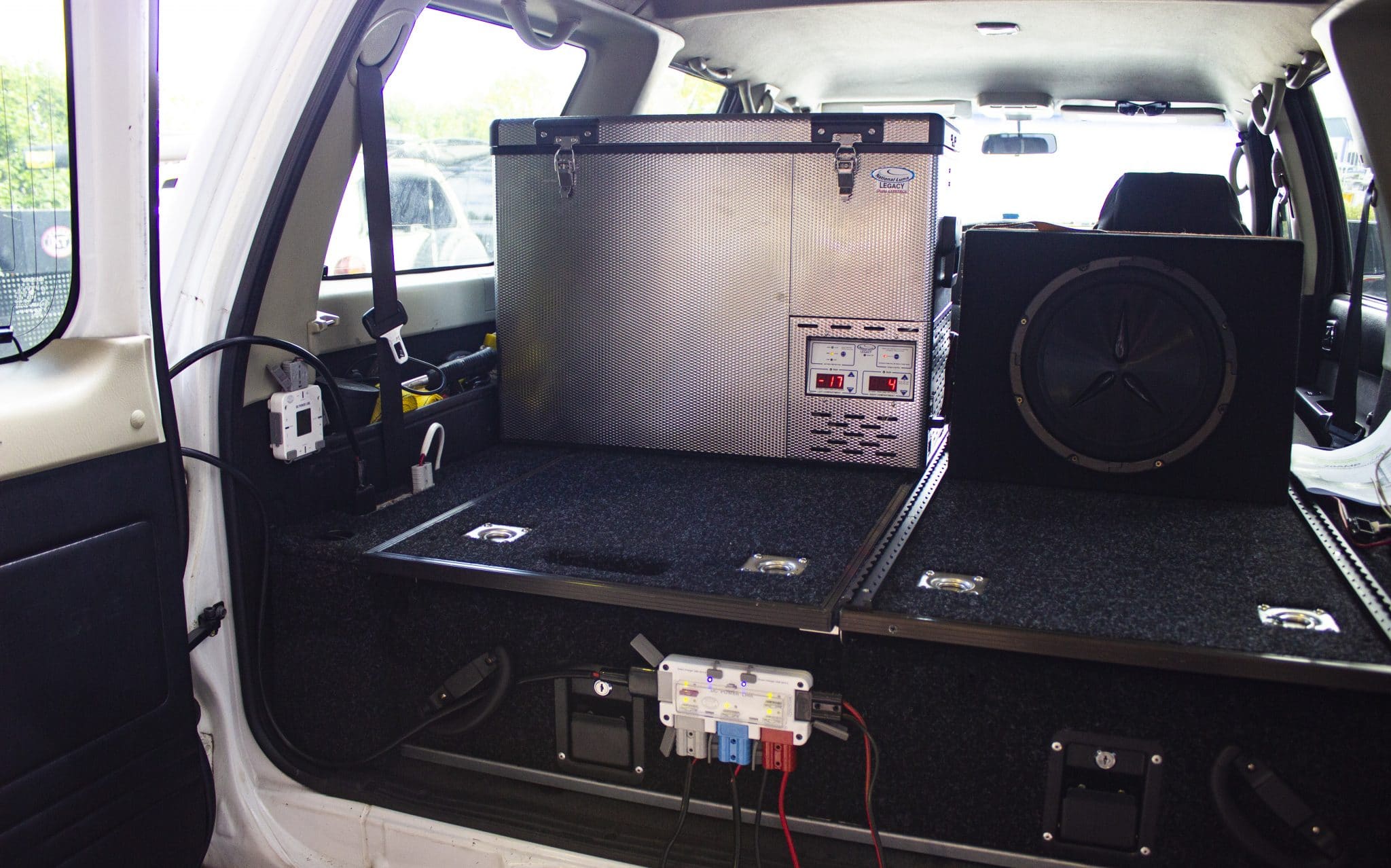 STEP 1. SELECT YOUR SOLAR PANEL
There are a few important things to consider before choosing your solar panel.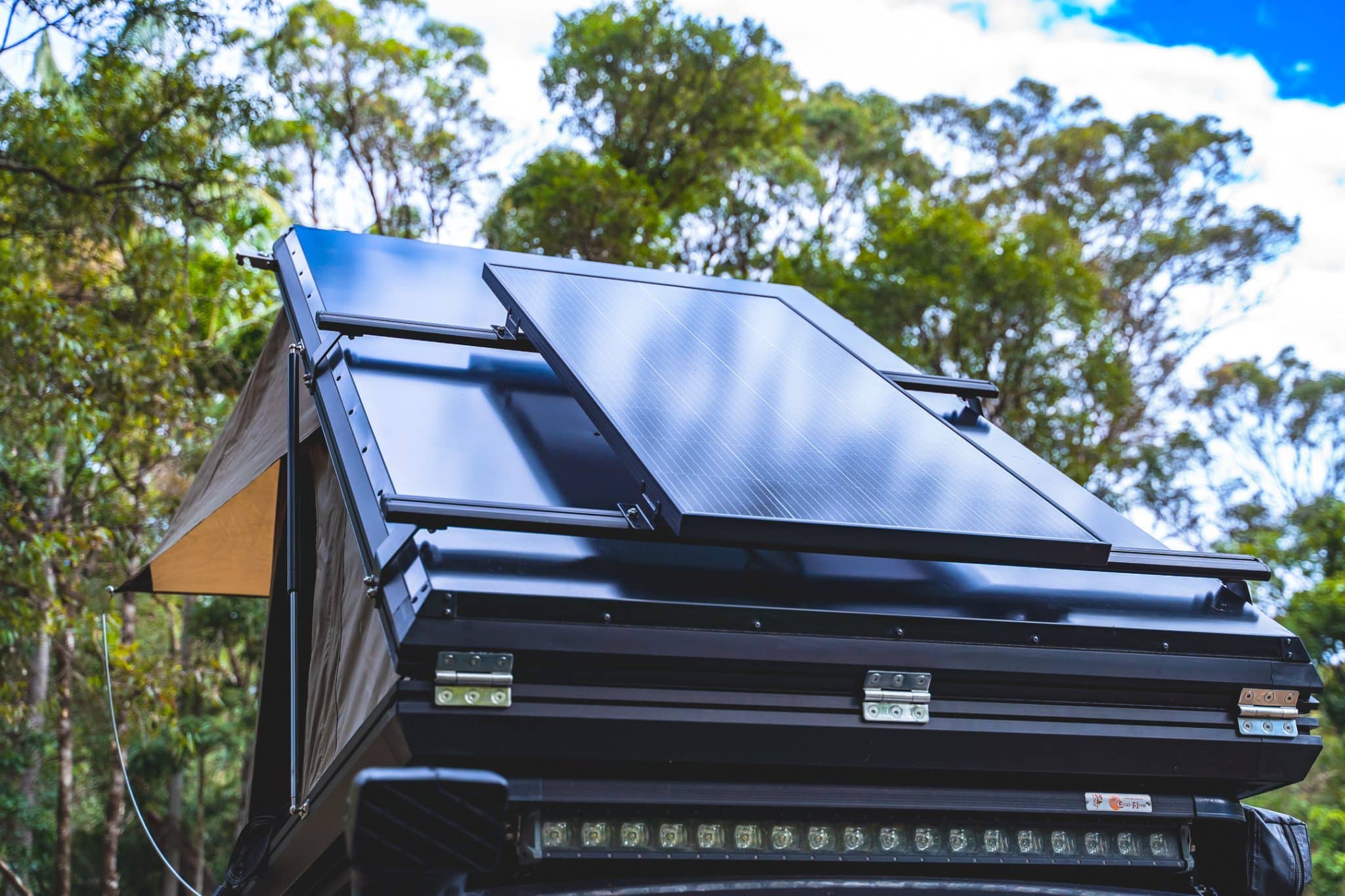 What space have you got to mount your solar panel?
KT Solar Panels start as small as 355 x 225mm (10 Watt) and the largest panel being 1476mm x 670mm (200 Watt).
What loads do you plan on powering with your battery?
When we refer to 'Loads', we are referring to the appliances or devices you will be powering by your battery. A common misconception is that 'Solar powers your appliances, when in-fact it is actually 'Solar charging your battery' which in turn, is powering your loads.
If you are planning to run a Portable Fridge Freezer and Camping Lights from a single 100Ah battery, you would be looking for a Solar Panel that has the capacity to continuously keep your battery charged. In this case, we would recommend a 100 Watt or 170 Watt 12V Solar Panel, with a 10Amp or 20Amp 12V Solar Charge Controller.
Other important things to consider when selecting your solar panel
a) how long you are running these loads (continuous or on occasion)
b) how often your solar panel is in direct sunlight
c) how much power your loads draw from your battery
(every appliance draws different amounts of power – check with your appliance manufacturer for further information).
What size battery / batteries are you running in your system?
A solar system is nothing without a good battery. Generally, in most recreational solar systems – we recommend using a 12V 100Ah (or higher) Deep Cycle Battery. These can be purchased through your nearest Leading Camping, Automotive or Electrical Retail stores.
The purpose of solar is to continuously keep your battery / batteries charged, prolonging your battery life and reducing cell damage. Discharged batteries without solar are difficult to recover to a healthy level.
Discharging your battery more than 50% continuously can damage your battery for good and set you back $$$ in battery replacement. This can happen when you are draining more power from your battery and it is not being charged efficiently enough to replace lost charge.
SOLAR PANELS AVAILABLE WITHIN THE KT SOLAR RANGE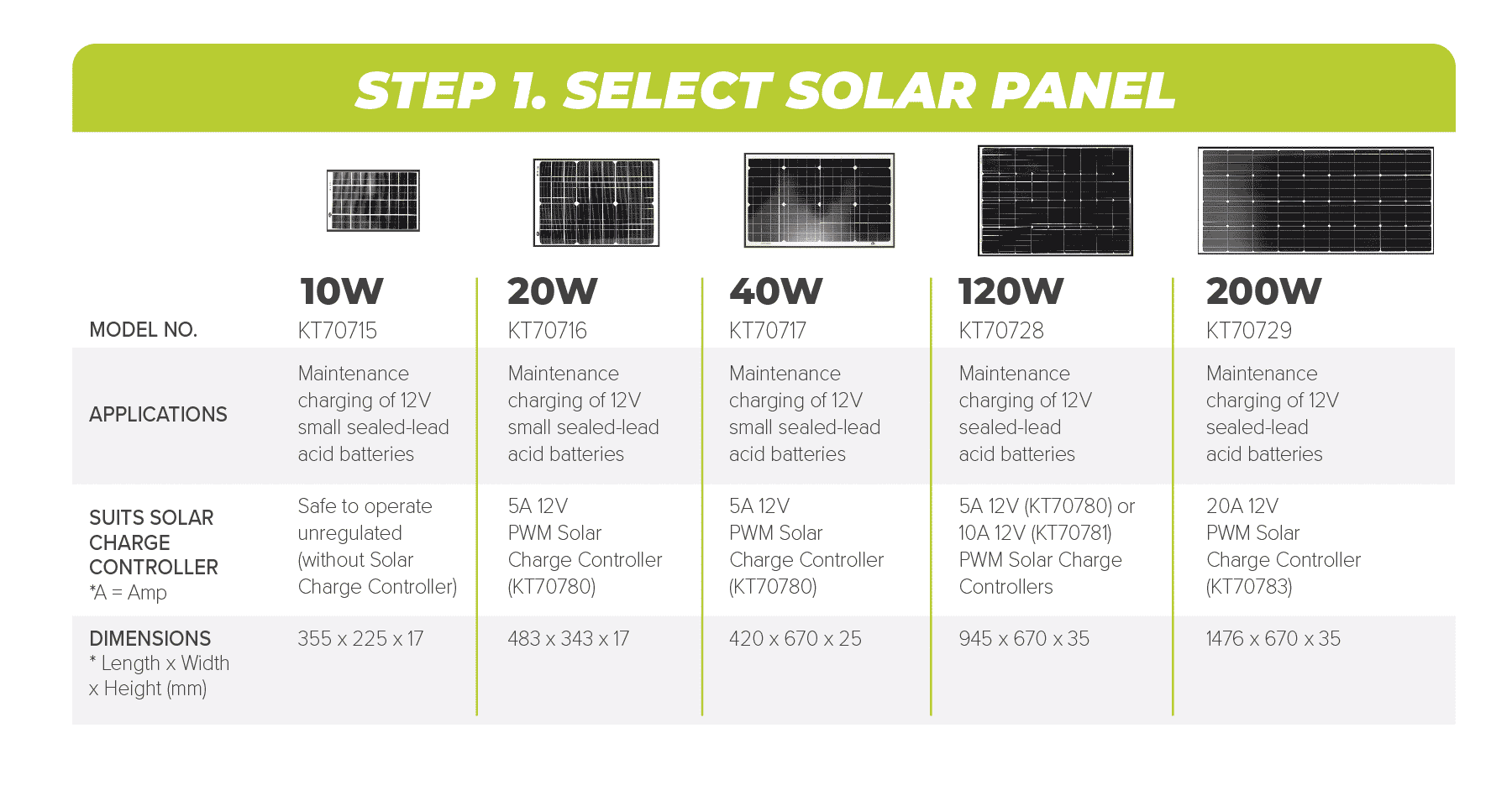 STEP 2. SELECT YOUR SOLAR SOLAR CHARGE CONTROLLER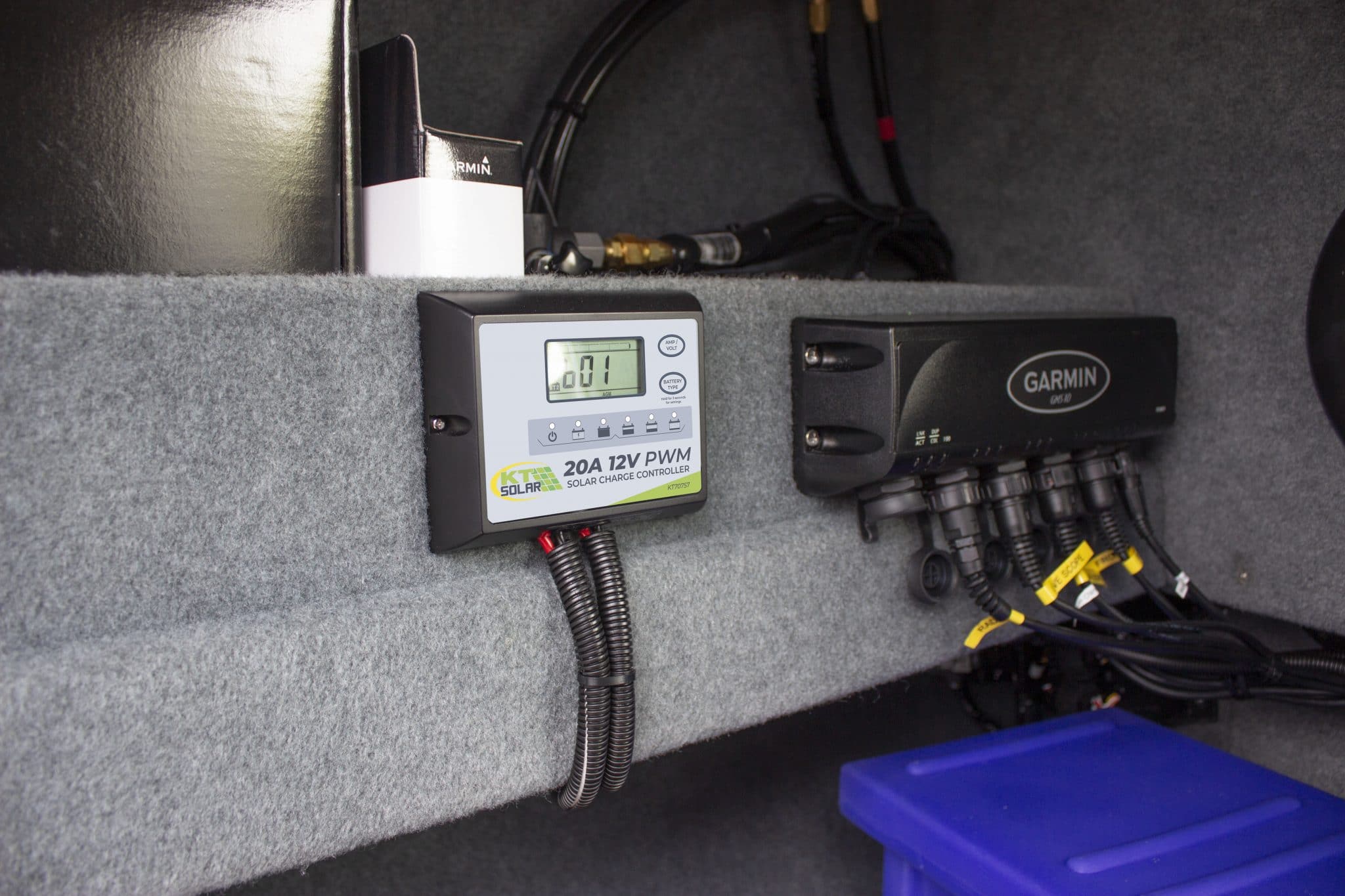 A Solar Charge Controller is one of the most critical and important components within your system. KT Solar offers a range of PWM Controllers (Pulse Width Modulation) in 8Amp, 10Amp, 20Amp and 15Amp Dual Battery (suited to systems with 2 x batteries). All of KT Solar's Controllers are suitable for 12V applications.
The purpose of the Solar Controller is to 'regulate' or 'control' power generated by the Solar Panel to the Battery, as not to over-charge or under-charge. Solar Controllers should always be used on KT Solar panels from 20 Watt and higher.
Solar Panels can produce up to their maximum power voltage (Vmp) – for example 'a KT Solar 100 Watt 12V Panel can produce a maximum of 18.3V in direct sunlight when used un-regulated. This is too much 'live' power to push directly into a battery, and can be dangerous when used unregulated. If your battery is 100% charged, this could over-charge your battery (causing damage).
Note: KT Solar 5 Watt and 10 Watt 12V Solar Panels are considered 'maintenance chargers' or 'trickle-chargers' and are safe to use unregulated (or without a solar controller) due to their low amperage.
Where should a Solar Charge Controller be installed in my solar system?
The Solar Charge Controller should be installed in the circuit between your Solar Panel and your battery.
It is always recommended to have your solar charge controller as close to your battery as possible. This is because your battery is generally kept in a cool, dry & protected area and so should your solar charge controller for optimum performance.
Installing your solar controller further from your battery results in voltage drop over longer cable lengths.
Having your solar controller installed closer to your battery is also convenient for performing a visual health-check on your battery using the LCD Display (only on the 10Amp, 20Amp & 15Amp Solar Controllers feature the LCD Display).
Helpful Tip:
It is recommended to connect the battery to the regulator first, followed by the solar connection second. When un-installing your system, it is recommended to remove the solar connection first, and battery connection second.
What type of Battery and 'Wattage' Solar Panels can my KT Solar Charge controller be used with?
KT Solar Charge Controllers can be used with various battery chemistry's:
Model No. KT70755
8A /12V – Charges single battery
Compatible with: Gel, Wet, AGM, Calcium Batteries
* Not compatible with lithium batteries
Suitable for 12V Single Cell Panels up to 120 Watt
Model No. KT70756
10A /12V – Charges single battery
Compatible with: Gel, Wet, AGM, Calcium & Lithium Batteries
Suitable for 12V Single Cell Panels up to 150 Watt
Model No. KT70757
10A /12V – Charges single battery
Compatible with: Gel, Wet, AGM, Calcium & Lithium Batteries
Suitable for 12V Single Cell Panels up to 190 Watt or 2 x 150W Panels in Parallel
Model No. KT70762
10A /12V – Charges two batteries at once
Compatible with: Gel, Wet, AGM, Calcium & Lithium Batteries
Suitable for 12V Single Cell Panels up to 190 Watt or 2 x 120W Panels in Parallel
SOLAR CONTROLLERS AVAILABLE WITHIN THE KT SOLAR RANGE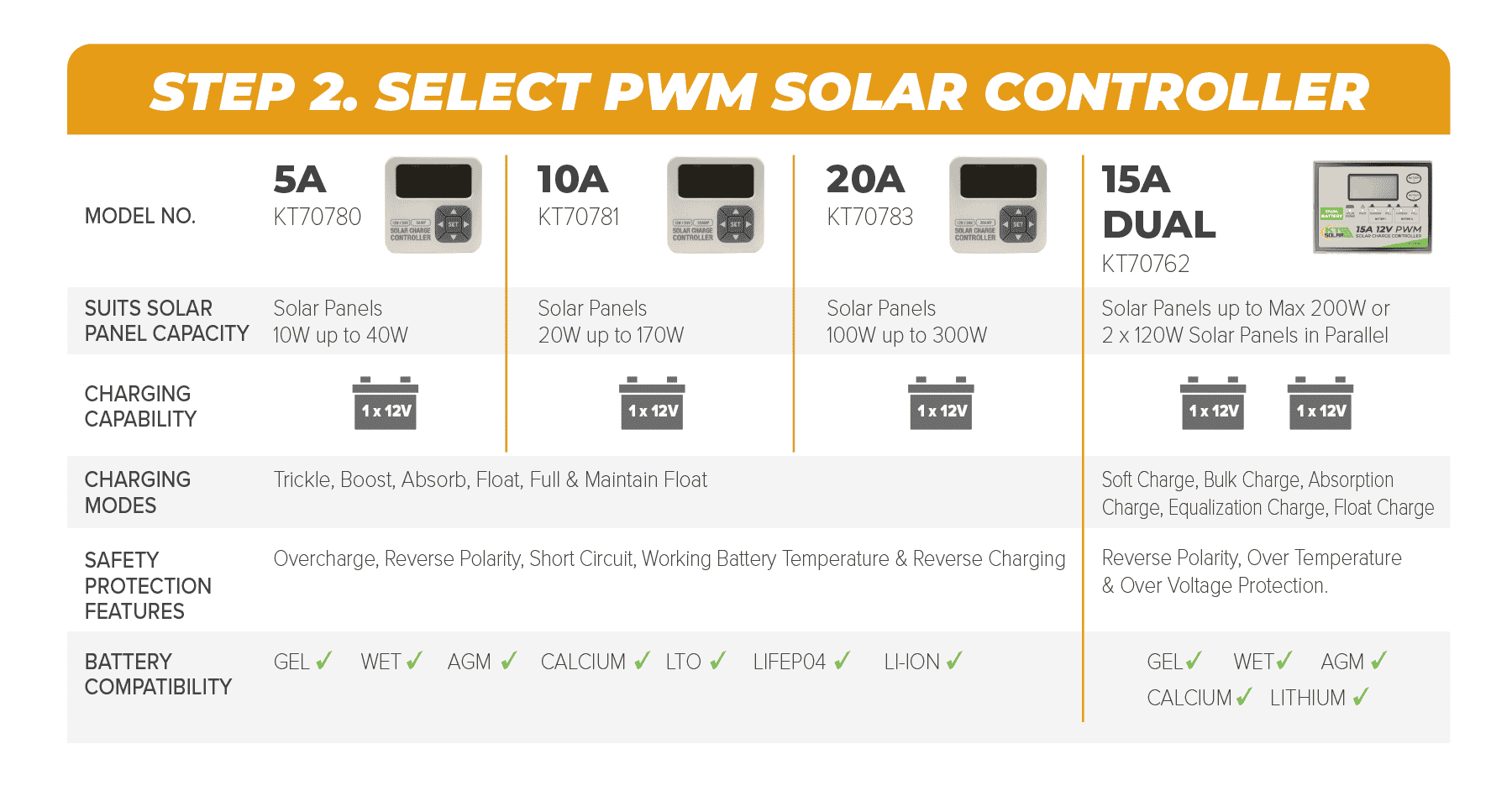 STEP 3. SELECTING POWER ACCESSORIES & LEADS TO SUIT YOUR SOLAR SYSTEM
KT Solar offers a comprehensive range of Solar Leads, Connectors and Solar Accessories to suit your system, however which products are right for you? In a basic solar system, the following products are required: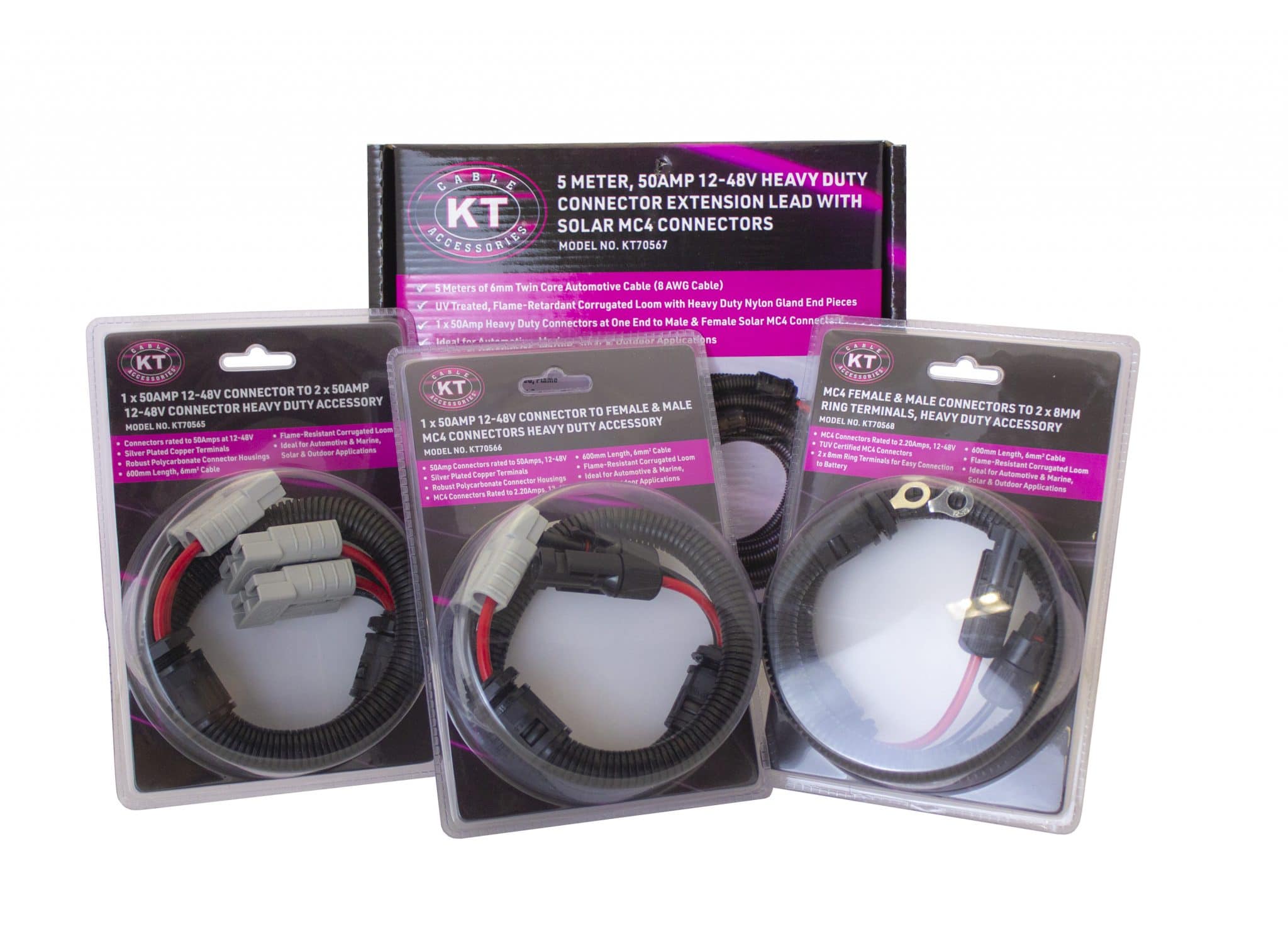 Important Considerations when selecting your power leads
It is important to consider the following when selecting your power leads:
a) What is the distance between your solar panel and your solar charge controller?
(to determine what length lead is required – 600mm or 5M)
b) How many batteries are you using in your solar system?
If 1 battery, you will require:
2 x KT70573 Leads, and a Solar Controller (8A, 10A or 20A 12V Solar Charge Controller)
If 2 batteries, you will require 4 x KT70753 Leads & a 15A 12V Dual Solar Charge Controller, therefore requiring 4 x KT70554
c) How far is your battery located from your regulator?
This will determine what length 50A Heavy Duty Connector extension you will require (1M or 3M)
SOLAR POWER LEADS AVAILABLE WITHIN THE KT SOLAR RANGE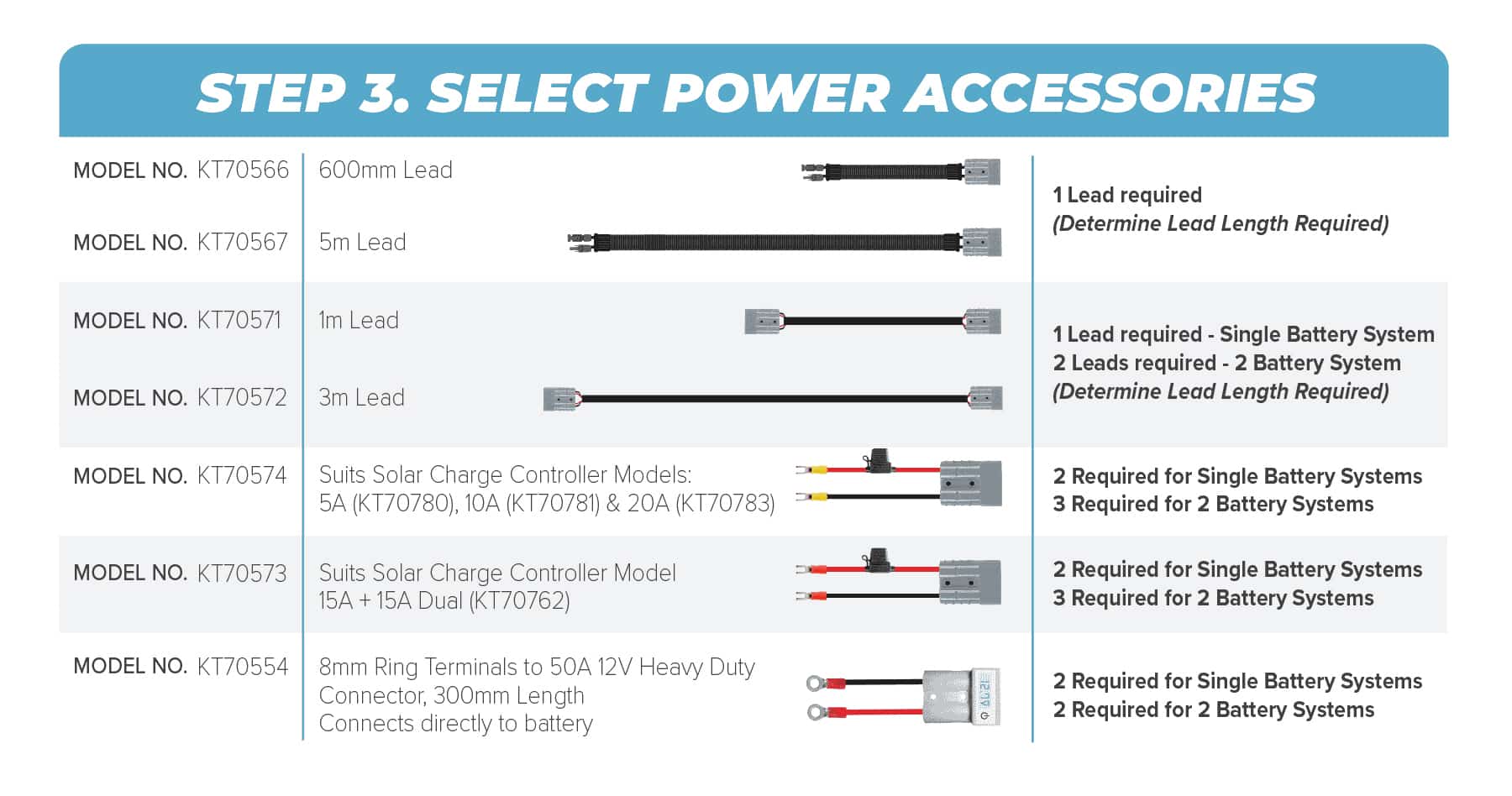 INNOVATIVE SOLAR POWER ACCESSORIES
KT offers a range of innovative power accessories that can assist with simplifying and managing power connections, and monitoring Amps, Volts, Watts and Battery Percentage of devices.
Read more about KT's Innovative Power Accessories Here: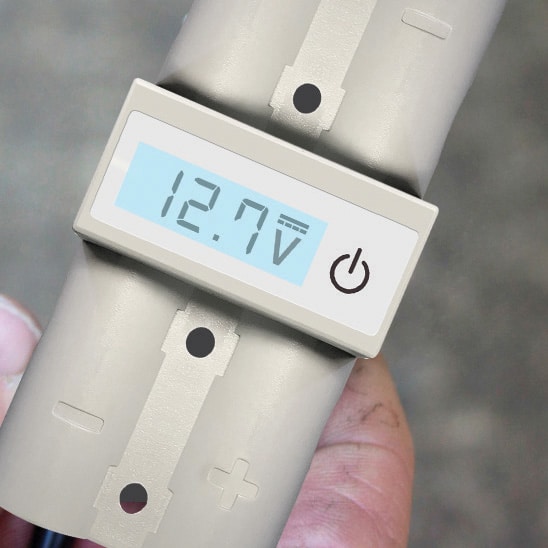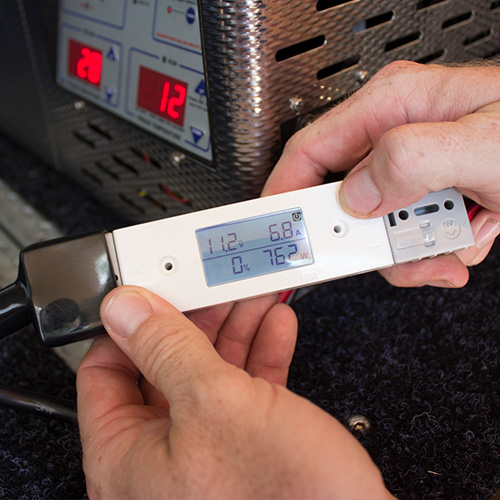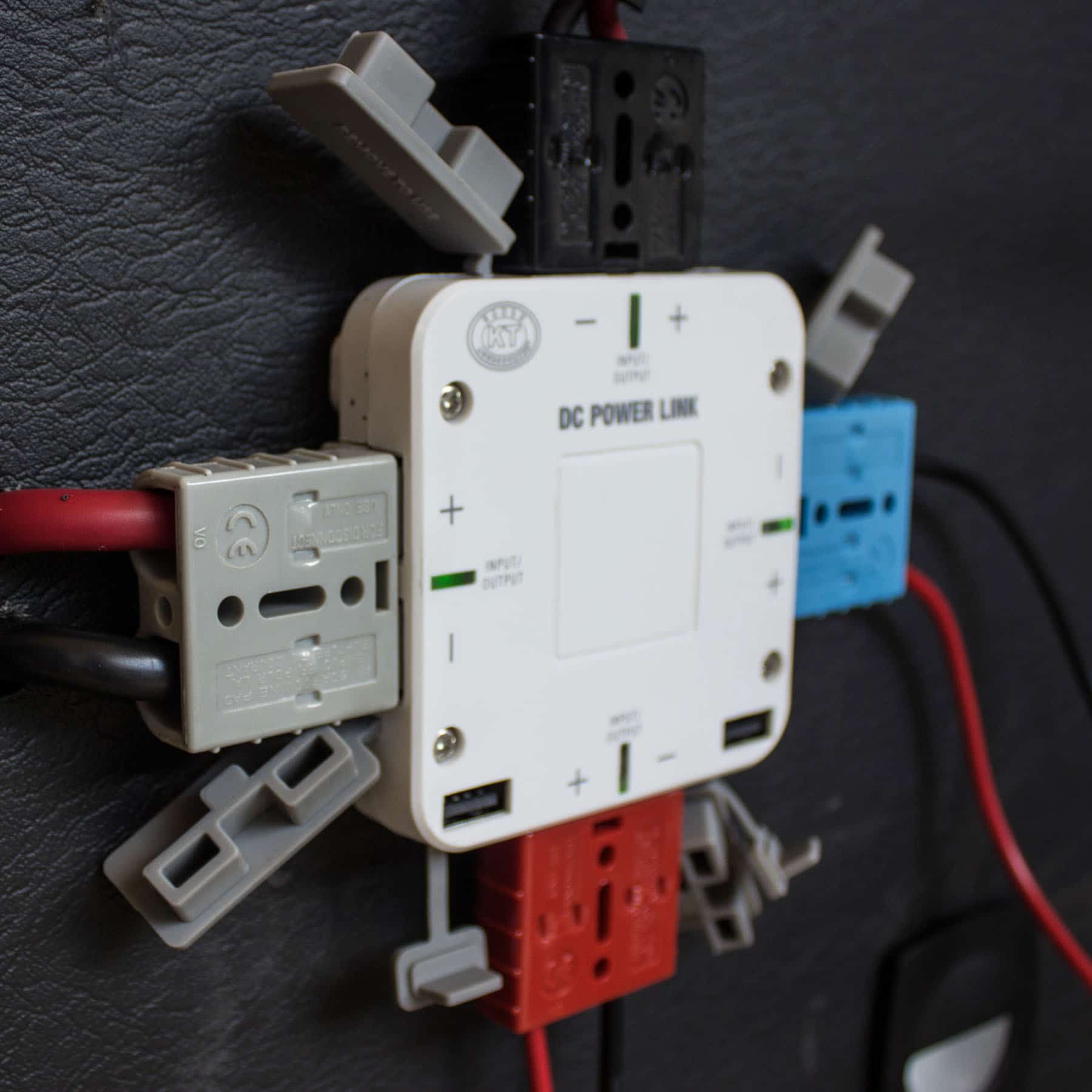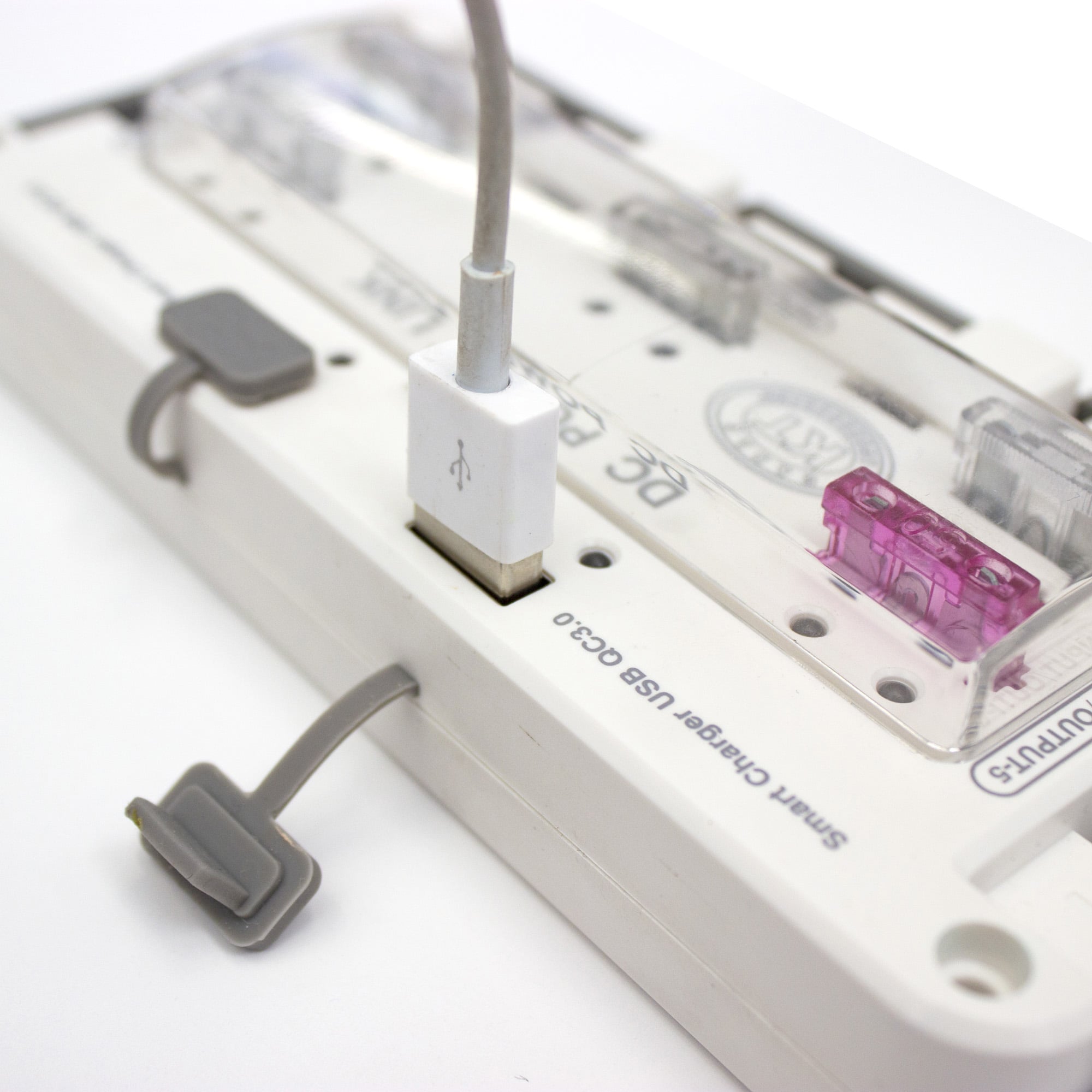 KT 50Amp Voltmeter Connector
Model No. KT70030S
KT 125A 100v Inline Power Meter
Model No. KT70752
KT 4 Way DC Power Link
Model No. KT70601
KT 5 Way DC Power Link
Model No. KT70602
SOLAR SYSTEM CHARTS & GUIDES
View our basic Solar System Charts with colour coded components, helping you visualise how each component connects and works together to complete the charging system.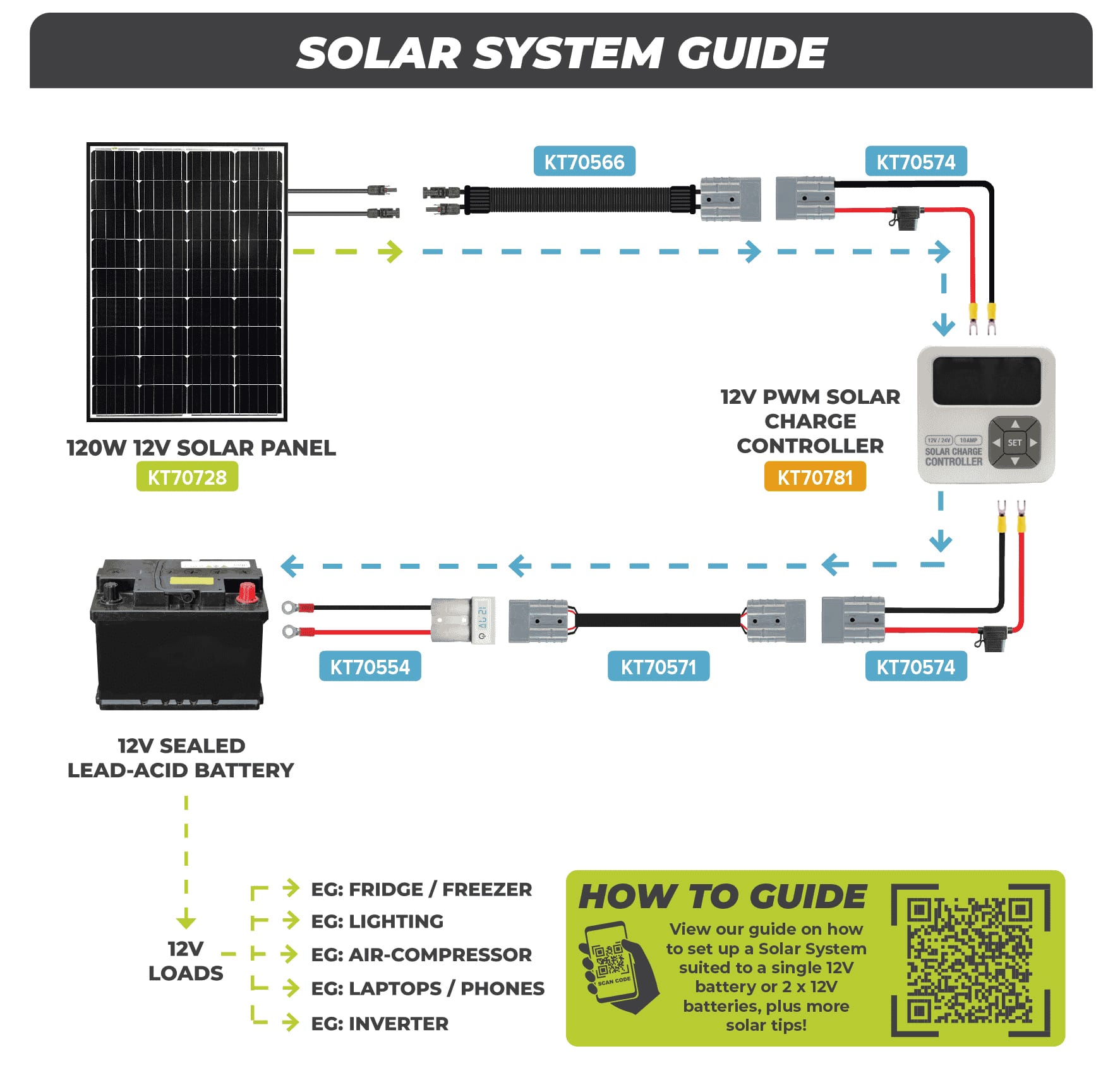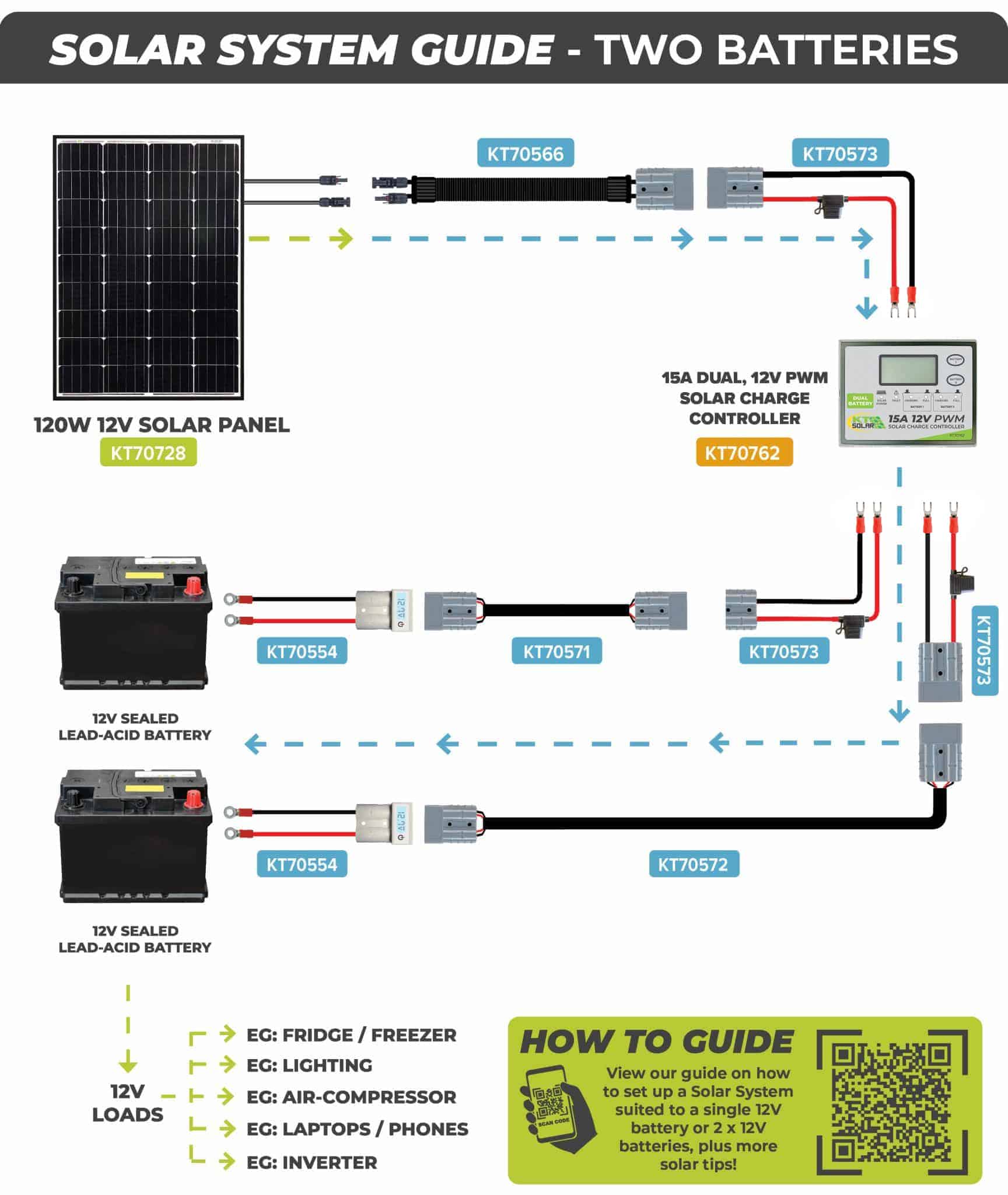 Does the KT 5 Way DC Power Link Work with Solar?
Yes, the KT DC Power Link is Solar compatible – infact, it is designed for use with solar and can be used in multiple configurations – Visit the Configurations section of this blog article for more information.
locate a Stockist
To find your nearest stockist of the KT Solar Panels and Accessories Range . . .